Saab's next-generation Gripen E combat jet will be rolled out of the assembly site at Linkopping, Sweden, on May 18, the company announced during a briefing with reporters at the Singapore Airshow.
Three aircraft are planned for the test phase of the new aircraft E/F variant, which has been purchased by Swedish and Brazilian air forces.
No timing has been given for the first flight of the jet, which incorporates a raft of improvements over the earlier C/D version, most notably the addition of an active electronically scanned radar. @defensenews.com
Saab rolls out first Gripen E fighter
PICTURES: Saab rolls out first Gripen E fighter
18 MAY, 2016 BY: CRAIG HOYLE
Saab has unveiled its next-generation Gripen E fighter, some three years before delivering its first of at least 96 production examples to the air forces of Sweden and Brazil. @flightglobal.com
Photo: Tony Osborne/AW&STPhoto: Tony Osborne/AW&ST
Gripen E is an enhanced version of the Gripen C/D multi-role aircraft. Saab started the construction of the pre-production Gripen E test aircraft, designated as 39-8, in July 2013. Initial construction works involve the assembly of the aircraft's front fuselage, while the payload mounting works will be carried out by RAUG.
Gripen E being manufactured @Saab
New equipments to be integrated into the Gripen E were tested and proved in the Gripen 39-7 E/F demonstrator programme during which the test aircraft has flown for more than 250 hours in Sweden, the UK, India and Switzerland since 2008. The testing of the Gripen E is being overseen by Armasuisse.
Closeup shot of the Gripen NG HUD
Closeup shot of the rear section of Gripen NG shows the missile sensor or MAW
The Gripen Demo aircraft (serial 39-7) is a converted JAS 39D that has been used to help de-risk the Gripen E program since 2008, testing a number of new capabilities for the project ahead of the main development contract, which is now in place.
The Demo aircraft (39-7) has demonstrated the initial pre-production AESA radar, the missile approach warning system (MAWS), the new F414-GE-39E engine, SATCOMs, new displays and avionics architecture (in the back seat), increased internal fuel, new landing gear, two new stores stations, the new digital head-up display (HUD), the Selex Skyward-G IRST and now a production Selex ES-05 Raven AESA radar.
Gripen NG Demonstration aircraft
In addition, parts were already in production for the first two Gripen E test aircraft (39-8 and 39-9) plus the static test rig (39-083). A first flight with the production-standard IRST was conducted on March 31, 2014.
Flight Ready: The Gripen Fighter E in the production hall of Saab in Linkoeping, Sweden.

Photo: Gaëtan Bally (Keystone) @tagesanzeiger.ch
The Gripen E will operate at a higher all-up weight: 16.5 tonnes compared to 14 tonnes in the JAS 39C. It also carries 40 per cent more fuel and offers two additional stores pylons. The new AESA radar is accommodated inside a new radome, and the nose gear now has a single wheel, which allows the Gripen E to operate from a runway with arresting gear.
Other finer details include a new ammunition box with a new conveyer system, but the same gun. The Gripen E no longer ejects cannon shells, as they would have hit the new shoulder stores stations.
Nose gear now has a single wheel, which allows the Gripen E to operate from a runway with arresting gear @SaabThe new AESA radar is accommodated inside a new radome
Other finer details include a new ammunition box with a new conveyer system, but the same gun. The Gripen E no longer ejects cannon shells, as they would have hit the new shoulder stores stations.
Structurally things have also changed. The outer wings now attach farther out — at pylon three — to make for extra internal space for fuel tanks, and new aluminum-lithium integral frames are provided for the wing attachments. The main gear retracts into the wing now, rather than the fuselage. There are larger engine air intakes and a new secondary environmental control system (ECS) for the powerful AESA radar at the bot-tom of the fin leading edge. A revised wingtip design accommodates new electronic warfare antennas. Although the canopy, seat and outer elevons are taken from the Gripen C, this is a very new beast. @key.aero
Gripen E fighters getting pneumatic missile eject launcher pylons

Pneumatic missile eject launcher pylons are to be developed and supplied to Saab of Sweden by Excelis under a long-term agreement.
Exelis said the pneumatic missile eject launcher pylons, or PMEL, will be for use on Saab's Gripen E fighters and allow the powered ejection of Meteor and AIM-120 advanced medium-range air-to-air missiles from the underside of the aircraft fuselage.
"This is a great opportunity for us to build on Exelis weapon carriage and release experience and continue to grow in the air-to-air missile eject market," said Ken Harrison, vice president and general manager of International Night Vision and Communications Solutions at Exelis.
Exelis said signature of the agreement between the two companies released an immediate design and development phase contract, which includes the delivery and supply of several flight-trial units. A later initial production contract will provide for the supply of 214 PMEL units to Saab.
Work under the contract will be conducted at Exelis' facility in Brighton, England. @spacedaily.com
Gripen E design details
The Gripen E has an overall length of 15.2m, wingspan of 8.6m, and maximum takeoff weight of 16,500kg. The maximum speed of the aircraft is Mach 2 at high altitude, whereas the speed at low altitude is 1,400km/h.
JAS 39 Gripen E
The one seater aircraft features ten pylon stations, which enable it to carry reconnaissance pods, weapons and external fuel tanks. Its turnaround time is ten minutes in air-to-air configuration and 20 minutes while carrying weapons for air-to-ground combat.
The aircraft's internal fuel tanks with a combined capacity of 3.4t are approximately 40% larger than those of its former version. The increased volume is made possible by moving the landing gear from the fuselage of the aircraft out to the inner wings.
Cockpit
The Gripen E features a digital state-of-the-art cockpit. The cockpit also features a hands-on-throttle-and-stick (HOTAS) which provides superior situational awareness for the pilot.
USE CC  button for subtitle 
Weapons carried on the Gripen E
The air-to-air missiles on the Gripen E include infrared-guided short range IRIS-T missile, and the Meteor missile, which is a beyond visual range air-to-air missile (BVRAAM).
IRIST-T Anti-Aircraft Missile off bore sight capabilityMeteor Beyond-Visual Range Air-to-Air Missile, Meteor is air ramjet-powered missile with advanced seeker technology that can fly at sustained high speeds, over long ranges and with great agility to defeat air-to-air threats range 100-300 km at over Mach 4
The aircraft also has the flexibility to be fitted with Sidewinder and A-Darter missiles to replace the IRIS-T, and the Advanced Medium Range Air-to-Air Missile (AMRAAM) missile to replace the Meteor. It can further be fitted with long range weapons such as R-Darter and Derby, and short range weapons such as ASRAAM and Python. It is guided by two-colour thermal imaging infrared homing with laser fuse. It features a multimode electronic counter countermeasures (ECCM) suite for higher view angles.
AIM-9 Sidewinder (Rb.74) Anti-Aircraft MissileThe A-Darter is 2.98m (9.78ft) long and 0.16m (0.52ft) in diameter. It has four fixed delta control fins at the rear and two strakes along the sides. The missile weighs 90kg. It carries a high explosive (HE) warhead and has a range of ten kilometres. It is powered by a solid propulsion system. The missile has a track rate of 120°/s and a seeker angle of 180° for countermeasure resistance. It also features lock-on after launch and memory tracking for higher range intercepts, and is compatible with Sidewinder stations. The tail-controlled AAM is powered by a boost-sustain rocket motor and uses thrust vector flight control. Its wingless airframe and low drag enable the A-Darter to have a higher range than the traditional SRAAMs. The missile system is designed with a highly agile airframe for close combat in electronic countermeasures (ECM) environments. @airforce-technology.comAIM-120 AMRAAM range 105-180 km at Mach 4The R-Darter is a beyond visual range (BVR) air-to-air missile guided by an active radar homing seeker. It was designed and manufactured by the South African firm Kentron, now known as Denel Dynamics. The South African air-to-air missile program benefited from cooperation with Israel  during the 1980s and the R-Darter is very similar to the Python Derby. >60 km (>37 mi) Active radar homing guidance system.The Derby missile is a medium-range active radar homing missile from Rafael's Python family of missiles. The missile is basically an enlarged Python-4 with an active-radar seeker. It is similar to the AIM-120 AMRAAM. It has a range of 50km and can hit target at Mach 4. ASRAAM (Advanced Short Range Air-to-Air Missile) is the next generation infrared-guided missile designed and built by MBDA UK (formerly Matra BAe Dynamics) to provide enhanced aerial combat capabilities for fighter aircraft. The ASRAAM missile can be deployed to engage targets within visual range (WVR) combat operations. It offers high speed and exceptional agility during its flight time. It is capable of engaging targets under complex environmental conditions and is compatible with aircraft armed with Sidewinder or AMRAAM missiles. The ASRAAM weapon is guided by an advanced, accurate focal plane array Imaging Infra-Red (IIR) seeker developed by Raytheon. The passive homing guidance system provides the ability to significantly track, acquire and engage targets beyond visual range (BVR) under severe clutter and countermeasures environmental situations. A low signature rocket motor is fitted to drive the ASRAAM short range missile. It provides superior acceleration and range throughout the flight. The motor also allows ASRAAM to quickly intercept any target and gives it a speed of about Mach 3. @airforce-technology.comPython-5 is a fifth generation air-to-air missile (AAM) manufactured by Rafael Advanced Defense Systems. The missile can engage enemy aircraft from very short ranges and near beyond visual range. Python-5 is the most accurate and reliable AAM of the Israeli Air Force and one of the most sophisticated guided missiles in the world. Python-5 features a new electro-optical infrared seeker with high off-boresight capability. The infrared seeker scans the target area for the threat and locks-on for terminal chase after the target is identified. Python-5 is also equipped with lock-on-before launch (LOBL) and lock-on-after launch (LOAL) capabilities. In LOAL mode, the target information is transmitted from the launch aircraft to the missile. Python-5 is powered by a solid propellant rocket engine. The propulsion system provides a speed of Mach 4 and an operational range of more than 20km. @airforce-technology.com
The Gripen E can also be integrated with a number of air-to-surface weapons including unguided Mk82, Mk83 and Mk84 bombs, laser-guided bombs such as GBU-12, GBU-16 and GBU-10, and advanced bombs such as GBU-49 and GBU-39. Air-to-surface missiles such as RBS15F ER, TAURUS KEPD 350, AGM-65 Maverick, and MBDA's dual-mode Brimstone (DMB) can also be integrated into the Gripen E.
GBU-10/12/16 Paveway II laser-guided bombAdvanced bombs such as GBU-49 and GBU-39Air-to-surface missiles such as RBS15Taurus KEPD 350 is a German/Swedish air-launched cruise missile, manufactured by Taurus Systems and used by Germany and Spain Range over 500 km at speed Mach 0.8 – 0.95Brimstone anti-armour missile systemThe MAR-1 is an air-to-surface( ASM) and surface-to-surface (SSM) anti-radiation missile (ARM) with INS/GPS capability under development by Brazil's Mectron and the Aerospace Technology and Science Department (Departamento de Ciência e Tecnologia Aeroespacial, DCTA) of the Brazilian Air Force. It is designed to suppress enemy air defenses (SEAD) by targeting surveillance radars and fire-control radars. 60 to 100km (Seen here on static display Gripen E) (See Missile details below)
The aircraft features a 27mm all-purpose Mauser BK27 high velocity gun providing both air-to-air and air-to-surface attack capability.
27mm all-purpose Mauser BK27 high velocity gun
Update – Rheinmetall to equip Saab Gripen NG fighter jets with upgraded BK27 

cannon:

HERE
It is also equipped with a missile approach warning (MAW) system and is capable of carrying more chaff packets and flares compared to similar aircraft, enhancing its survivability.
Gripen E's radars, sensors and communication systems
The Gripen E is fitted with Selex's ES-05 Raven active electronically scanned array (AESA) radar system. Fitted on a swashplate at the nose of the aircraft, the radar provides an angular field of view of 100° and look behind capability.
The Gripen takes it one step further by mounting the radar on a "repositioner" that allows +/-100° scan angle.  Typically, AESA radars are fixed, and "steered" virtually.  It's simpler than it sounds.  Here is the Gripen E's radar: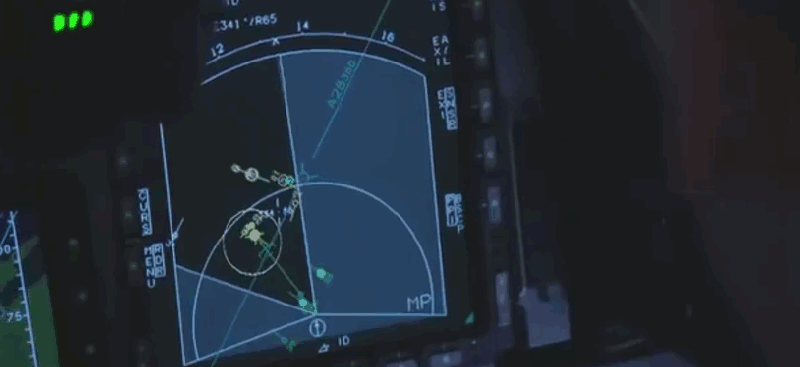 Advantage of swashed plate array of RAVEN ES-05 radar
In long-range air-to-air combat, the highest FoV means that a Gripen can maneuver at an angle in relation to the viewed axis of the target (off-boresight angle) greater than what is possible with an AESA radar with fixed TRMs matrix after launching a BVR missile and still be able to send updated information to the missile. In turn, a potential enemy will be limited to deviating up to 60º of the viewed angle after launching the BVR missile. Therefore, it will still be displacing towards a missile launched by Gripen while this, in turn, will be flying perpendicularly or even away from the enemy missile. Simulations made showed that this capacity should not be underestimated and it will have a devastating effect in the engagement result of the BVR. @jaihind971.blogspot.com
JAS 39 Gripen E
In a dogfight, the air-to-air WVR (Within Visual Range), the repositioning capacity of the antenna with Swashplate will enable the detection of targets "over the shoulder" of the pilot, together with helmet mounted sight and next generation air-to-air WVR missiles, with high maneuverability, will offer the Gripen NG pilot even more advantages. @gripenblogs.com
The passive Infrared Search and Track (IRST) sensor system fitted to the aircraft is the Skyward G supplied by Selex. It is also mounted on the nose of the aircraft and does not emit signals. The aircraft is further fitted with a passively listening advanced electronic warfare (EW) system.
Gripen E's built-in IRST located at the base of the windscreen
The Gripen E's built-in IRST is also in a more traditional location at the base of the windscreen.  This allows it to mimic the pilot's head movement more accurately so it can project the image on the pilot's HMD.
Selex ES SKYWARD-G IRST for GRIPEN E. (Photo: Finmeccanica)
Finmeccanica– Selex ES also provides the fighter aircraft with the Raven ES-05 AESA (active electronically scanned array). Finmeccanica – Selex ES's participation in the Gripen NG programme dates back to 2009, when an agreement was signed with Saab for the development of the Raven ES AESA radar. This was followed in 2010 by the selection of the Skyward-G IRST sensor and the IFF system.
Raven ES AESA radar and Skyward-G IRST sensor
Skyward-G InfraRed Search and Track (IRST) Skyward for SAAB's Gripen E. The new systems will equip the Swedish Air Force's Gripen E fleet. Saab is developing the new version for the Swedish Air Force. Skyward-G can silently detect threats, at beyond-visual range without relying on active (radar) emissions that could betray the aircraft's intentions and position to hostile forces. With the IRST a Gripen can detect and track enemy targets, including aircraft, naval vessels and ground vehicles. The system can also complement the radar by tracking the heat signatures of stealthy targets that are not visible or trackable by radar.
Finmeccanica, through its Airborne and Space Systems division, has signed contracts to provide Identification, Friend or Foe (IFF) systems for the Gripen Next Generation (Gripen NG) aircraft earmarked for the Air Forces of Sweden and Brazil.
JAS 39 Gripen E Brazilian Air Force
The systems will be used by Gripen pilots to identify other aircraft or vehicles as friendly (or potentially unfriendly) and to determine their bearing and range from the aircraft. Independent from the Gripen NG's radar and other sensors, the system can look in a different direction, allowing the pilot to use the radar to queue-up targets for subsequent identification. Of particular note, the system's separate antennas give it a wide, more-than 180 degree field of regard, providing operational benefits.
Each complete system consists of a transponder and an interrogator. Also included is a crypto customised in accordance with customer requirements. The transponder, which is the company's Mode 5 M428 model, is the same being offered to the UK MoD to address NATO's requirement for a new standard of IFF across all platforms. @avionews.com
Mode 5 M428 model
In addition, Saab is also offering the BriteCloud Expendable Active Decoy (EAD) as an electronic warfare option for the Gripen E.
The Gripen electronic warfare system is continuously updated to meet emerging threats and BriteCloud integration is an important step in this process," says Hans Einerth, Wing Commander Flying at SAAB. Illustration: Selex ES @defense-update.comBriteCloud is a self-contained digital radio frequency memory (DRFM) jammer that is designed to protect fighter jets from complex threats such as RF-guided missiles and fire-control radars. Illustration: Selex ES 
BriteCloud is a self-contained digital radio frequency memory (DRFM) jammer that is designed to protect fighter jets from complex threats such as RF-guided missiles and fire-control radars. After manual or automatic ejection from a standard chaff and flare dispenser, BriteCloud detects RF emissions and cross-references them against its pre-programmed threat library. Upon finding a match, the decoy applies advanced algorithms and emits a deception signal to defeat the threat radar and incoming missile so that the aircraft is able to carry on safely and concentrate on its mission. @defense-update.com
The Elisra passive airborne warning system (PAWS-2) has been selected for the Gripen fighter. Elbit, Elisra's parent Israeli company, said that the system was selected "following a comprehensive in-depth evaluation and testing in various scenarios as well as in a comparative live fire test."
The missile approach warning function on the Gripen has previously been provided by Saab itself, as part of the Swedish company's Integrated Defensive Aids System (IDAS) that has also been installed on other combat aircraft, helicopters and airlifters. IDAS includes the MAW-300, which employs ultraviolet (UV) sensors, whereas PAWS-2 is an infrared (IR) system. Elbit said that PAWS-2 is based on years of experience and has growth potential "to cope with ever-growing future requirements expected during the life-cycle of the Gripen fighter system."
A Saab spokesman told AIN that PAWS-2 would be the baseline fit for all future Gripens but that individual customers would be free to select and integrate alternatives. The Gripen has just been chosen by Brazil, and Saab is currently campaigning to sell the fighter to Malaysia and Switzerland, having secured an order for 60 from the Swedish air force. The Swedish aircraft will be converted from Gripen Cs that are already in service. Switzerland will get 22 new aircraft, if a nationwide referendum next year confirms the purchase. @ainonline.com
NETWORK CENTRIC WARFARE
Royal Thai Air Force Net Work Centric Based on Saab Systems (Example)
Together with proven Network Centric Warfare capabilities including advanced data communications, dual data links, satellite communications and video links  on-board sensors, in combination with HMD/NVG, deliver the ability to detect and destroy a wide variety of targets, even at night or in poor weather conditions.
BATTLEFIELD NETWORK
Royal Thai Air Force Battlefield Network Based on Saab Systems (Example)
The Gripen data link system (TIDLS), along with a Link 16 or National Data Link provide the following capabilities:
Data link within the Tactical Air Unit
Data link between Gripen. AEW&C and C2 centries on ground or at sea
Data link with Forward Air Controller
JAS 39 Gripen E
Rafael's Litening III Laser Designation Pod (LDP) is fitted to the aircraft for attacking ground targets using laser-guided bombs. The LDP also integrates a forward looking infrared (FLIR) sensor and a charge-coupled device (CCD) camera.
Rafael's Litening III Laser Designation Pod (LDP) on Gripen 39C
The Gripen E can be optionally fitted with different pod systems including Saab's own Modular Reconnaissance Pod System (MRPS), Rafael's Reccelite and Thales' digital joint reconnaissance pod (DJRP).
Saab's own Modular Reconnaissance Pod System (MRPS) on Gripen 39C
The most important equipment for JAS 39 Gripen when it is used in reconnaissance duties is the MPRS "recce pod" which in the Swedish Air Force has the designation SPK 39 (Spaningskapsel 39). It is a pod hanging in the centreline under the aircraft. SaabTech is responsible for the development of the system. The pod itself is bought from Terma A/S in Denmark. Swedish Aerotech Teleub is an important subcontractor.
The Modular Reconnaissance Pod System (MPRS) is designed for autonomous operation with an internally integrated Environment Control System. A Reconnaissance Management System (RSM) and a Control Display Unit (CUD) are basic parts of the system.
The reconnaissance payload includes (sensors, the Digital Mass Memory (DMM) and a Common Data Link (CDL), are housed in three main compartments in the pod. The rotating window-provided mid-section is able to accommodate advanced sensors suitable for missions at any altitude. The forward and aft compartments of the pod houses DMM, data link equipment and additional sensors as applicable. @avrosys.nu
Close-up photo of RecceLite reconnaissande pod mounted on JAS 39D

Thales Digital Joint Reconnaissance Pod – Purchased for use on the Gripen, the British-built Thales Digital Joint Reconnaissance Pod provides a wide-area reconnaissance capability in a pod operating with electro-optical and infrared sensors. The Digital Joint Reconnaissance Pod (DJRP) provides Day/Night, low to medium level and real time recce capability. Seen here on JAS 39C @saairforce.co.za
The aircraft can be fitted with regular radios, Havequick/SATURN frequency hopping secure radio, long distance satellite communication systems including the Link 16 for wide-area command and control (C2), which is compatible with FLORAKO radar system.
The aircraft is also fitted with a ground data link called ROVER, which provides communication to a Forward Air Controller (FAC) or Joint Terminal Attack Controller (JTAC) on the ground.
JAS 39 Gripen E
GE F414G engine for Gripen E
The Gripen E is driven by General Electric's (GE) F414G turbofan engine rated at 22,000lbs (98kN). It features a new high-pressure turbine and a new six-stage, high-pressure compressor.
F414G has 96kN (22,000lb) thrust
GE was awarded a $250m contract by the Government of Switzerland in December 2011 to supply the engines for the Gripen E. The aircraft's engine and design enable it to fly at supersonic speed without the use of an afterburner, thus saving more fuel and enabling it to stay longer in the air.
Gripen E orders and deliveries
Orders for the new generation aircraft for Sweden are based on the initial agreements signed between Saab and Swedish Defence Materiel Administration (FMV) in February and March 2012. The agreement calls for the modification of 60 Gripen C aircraft to Gripen E configuration for Sweden from 2013 to 2026. Three development orders under the agreement have been made and the remaining orders are expected in 2014. The total value of the orders under the agreement is estimated to be SEK47.2bn ($7.4bn).  @airforce-technology.com

Read related post: 
Bullish Saab Sets Rollout Date For Gripen E
Royal Thai Air Force, Slovakia, Croatia and Bulgaria are to acquire Gripen
Rheinmetall to equip Saab Gripen NG fighter jets with upgraded BK27 cannon