The Boeing CF-18 Hornet (military designation: CF-188) is a multi-role combat aircraft designed and manufactured by McDonnell Douglas which is currently part of Boeing Integrated and Defence System (BIDS), US. The aircraft was built for the Canadian Force and is based on its predecessor, the F/A 18 Hornet.
The aircraft can be utilised for air defence, air superiority, tactical support, training, aerobatic examination and aerospace testing and evaluation.
The Canadian Forces initially acquired 128 CF-18 Hornets of which 25 were lost in accidents and 43 were sold to an undisclosed customer. The fleet is expected to be retired from service between 2017 and 2020.
Losses and Ejections:
Here
Image: ejection-history.org.uk
The most visible difference between a CF-18 and a U.S. F-18 is the 0.6 Mcd night identification light. This spotlight is mounted in the gun loading door on the port side of the aircraft. Some CF-18s have the light temporarily removed, but the window is always in place. Also, the underside of the CF-18 features a painted "false canopy". This is intended to momentarily disorient and confuse an enemy in air-to-air combat. Subsequently, the U.S. Marine Corps Aviation and the Spanish Air Force F/A-18s also adopted this false canopy. Source wikiwand.com
Image: ottawacitizen.com
The US Navy awarded an $8m contract to Precision Air Systems of Ultra Electronics in February 2010 to supply High Pressure Pure Air Generators (HiPPAG) under Foreign Military Sale (FMS), for deploying in the Canadian CF-18 aircraft. HiPPAG is a rough and small compressor system
Current Canada's CF-18 fighter jets can still fly past 2025:
Here

High Pressure Pure Air Generators (HiPPAGs™)
Image: ultra-electronics.com
The contract is for High Pressure Pure Air Generators (HiPPAGs™) and was procured under a Foreign Military Sale (FMS) to meet a Canadian Air Force requirement to support Sidewinder missiles on CF-18 aircraft. This latest order brings the total number of HiPPAGs purchased for F-18 aircraft to over 1,900 systems.
HiPPAG is a rugged, high performance miniature compressor system which provides a continuous source of high-pressure, pure air for cooling the seekers of heat-seeking Sidewinder air-to-air missiles. The HiPPAGs are mounted in the launch rail attached on the aircraft wings. Ultra's HiPPAG systems have been in service on F-18 aircraft since 1997 and have accumulated more than three million flying hours and demonstrated impressive reliability, exceeding three thousand flying hours between failures. Source businesswire.com
Infrared detector cooling
HiPPAG™, high pressure pure air generator, for infrared detector cooling is an integrated pure compressor and filtration system that is designed to replace rechargeable gas bottles. HiPPAG™ has proven its reliability in-service on key US Navy and NATO platforms. Selection of HiPPAG™ delivers significant benefits to the user, including:
Unlimited mission duration – HiPPAG ™ draws in atmospheric air to provide a continuous supply of high pressure pure air.
Minimised logistics footprint – HiPPAG ™ eliminates the need for gas bottles and their associated charging, handling and maintenance equipment.
Dependable gas purity – HiPPAG ™ generates the gas where it is needed, within the launcher, and reliably purifies it to the very highest standards. Gas is always available 'on-demand' and the potential sources of contamination are eliminated.
Specification
Specifications are dependent on the application
Flow rate 7 – 20 SL/min
Operating pressure 200-350 Bar (3000-5000 psi)
Gas purity to DEF-STAN 58/96
Source ultra-pals.com

The Canadian Forces awarded a $273m contract to Harris Corporation in October 2010 to repair, overhaul and modernise CF-18 Hornet's avionics system as part of the Avionics Optimised Weapon System Support (OWSS) programme. The contract will last for six years with an option to extend for another three years.
CF-18A and CF18B variants
CF-18A
Boeing CF-18 Hornet is available in two variants namely CF-18A and CF-18B. CF-18A is a single seat combat and ground attack aircraft. Its military designation is CF-188A.
CF-18B is fitted with two seats in the cockpit for pilot and co-pilot. Its military designation is CF-188B.
CF-18B – Image: canmilair.com
Martin-Baker Model Mk.10L
Martin-Baker Model Mk.10L shown above is similar to the Ejection Seats fitted to Canadian CF-18 Aircraft.
Designations given to Canadian F-18 Ejection Seats
Martin-Baker Model Mk.CDN10S (Front)
Martin-Baker Model Mk.CDN10S-1 (Rear)
Source ejection-history.org.uk
CF-18 Hornet programme and development
In an effort to replace its F-104 Star Fighter aircraft the Canadian Government launched the Fighter Aircraft Competition (FAC) in 1977, disclosing a purchase budget of around C$2.4bn for the competition winner.
F/A-18 Hornet won the competition in 1980. The maiden flight of the aircraft took place in November 1978. The deliveries to Canadian Forces began in 1982. The aircraft entered service in January 1983.
The Department of National Defence (DND) initiated Incremental Modernisation Project (IMP) in 2001 to modernise the CF-18 Hornet Fighter aircraft. The modernisation contract was awarded to Boeing and L-3 Communications in 2002. About 62 CF-18As and 18 CF-18Bs were upgraded as part of the IMP project, in two phases.
Phase I was completed in August 2006 and had cost $436m. It included replacing the AN/APG-65 radar in the aircraft with AN/APG-73. The aircraft was fitted with a terrain avoidance system (TAS), identification friend or foe (IFF) transponder and a modern AN/ARC-210 RT-1556/ARC VHF/UHF radio for line of sight communications.
Incremental Modernization Project Phase I
Replacement of the AN/APG-65 radar with the new AN/APG-73 radar, which has triple the processing speed and memory capacity, while also incorporating Terrain Following and Terrain Avoidance modes for low level ground attack missions. Furthermore, the new AN/APG-73 radar is also capable of guiding the modern AIM-120 AMRAAM medium range missile.
Addition of the AN/APX-111 Combined Interrogator and Transponder, otherwise known as an IFF (Identification Friend or Foe). The new IFF brings the CF-18 up to current NATO standards for combat identification.
Replacement of the radios with the new AN/ARC-210, RT-1556/ARC VHF/UHF Radio. This radio, capable of line-of-sight communications on VHF/UHF frequencies as well as HAVE QUICK, HAVE QUICK II, and SINCGARS waveforms resolved the issues of compatibility with allied forces, and are more resistant to jamming.
Replacement of the mission computers with the General Dynamics Advanced Information Systems AN/AYK-14 XN-8 mission computer with increased memory and processing capabilities.
Replacement of the Stores Management System with the Smiths Aerospace AN/AYQ-9 Stores Management System. This makes the CF-18 more compatible with the latest of precision guided munitions (PGMs) and furthermore adds the MIL-STD-1760 interface for use of the AIM-120 AMRAAM missile and the JDAM family of GPS-guided bombs.
Installation of a Global Positioning System/Inertial Navigation System (GPS/INS) capability, enhancing the CF-18's navigational capabilities.
Within the same time frame, other non-IMP upgrades include:
Installation of a new infrared sensor pod.
Replacement of the old cathode ray tube cockpit instrument panels with new flat paneled, full colour LCD displays from Litton Systems Canada (now Northrop Grumman Canada).
Addition of a new night vision imaging system.
Purchase of the AIM-120 AMRAAM medium-range missiles and other advanced air to air and air to ground munitions.
Application of a landing gear "get well" program to reduce corrosion and improve gear retraction.
Replacement of the existing CF-18 flight simulators with the Advanced Distributed Combat Training System.
Source liquisearch.com
ANAPG-73 radar
An APG-73 fire control radar is installed into anF/A-18 Hornet. The radome swings open and the radar glides forward on rails to allow access to the entire system –  mage: raytheon.com
The AN/APG-73 is a development of the original AN/APG-65. The APG-73 has all of the modes available to the earlier radar set but with triple the processing speed and memory capacity, and the addition of Terrain Following and Terrain Avoidance modes.  The latter features are critical for any ground attack missions. For air-to-air missions the APG-73, unlike the APG-65, is capable of guiding state-of-the-art AIM-120 AMRAAM active homing missiles.
The APG-73 is now a mature radar system  –  having entered US service in 1994 – and is standard on later model F/A-18C and on the new F/A-18E/F Super Hornet. (There is some irony in the APG-73's late entry into CF service, this radar having originally been a joint US-Canadian development.)   A possible future upgrade to the radar is an option that will allow the APG-73 to produce high resolution radar ground maps useful for ground attack missions or for reconnaissance. Source casr.ca
BAE Systems AN/APX-111 Combined interrogator and transponder
Also known as IFF (Identification Friend or Foe), this device is used to determine whether any electronically-interrogated aircraft are 'friendlies' or unknowns. (Depending on the rules of engagement,  any unknown tracks could be declared to be 'hostiles'.) Basically, the interrogator portion of the APX-111 demands the correct coded response from a targeted aircraft. If that interrogated aircraft is also fitted with an APX-111, the transponder will send back an appropriate coded signal to the interrogator. Signals are only sent to interrogators the system recognizes.  In other words,  the APX-111's transponder will either identify itself as 'friend' or it will not respond at all.
Image: squarespace.com
The APX-111 transponder unit is also compatible with civilian mode S functions and, presumably, mode C.  Both modes are required for flight in civilian airspace. The AN/APX-111 will bring the CF18 up to current NATO standards for combat identification and will allow the AIM-120 AMRAAMmissiles to be used out to their maximum range while reducing the risk of 'friendly-fire' incidents. The CF18 was already equipped with a transponder but, by combining the function of both interrogator and transponder in one unit, APX-111s save weight and volume. Source casr.ca
AN/ARC-210 RT-1556/ARC VHF/UHF radio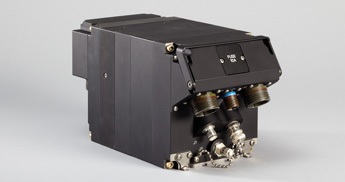 A New VHF/UHF Radio for the CF18 Hornet  – the Rockwell Collins' AN/ARC-210 RT-1556/ARC
These fine Collins radios are standard for US military aircraft. The new radio will allow Canadian Hornets to maintain compatible coded communications with their most important ally. The current CF18 radio's lack of compatibility was an issue that plagued the CF during operations in both the 1991 Gulf War and in Kosovo.
The RT-1556 provides line-of-sight communications on VHF/ UHF frequencies as well as HAVE QUICK, HAVE QUICK II, and SINCGARS waveforms making these radios resistant to jamming. The frequencies (UHF and VHF) covered by the radio range from 30 to 400 MHz within the appropriate AM and FM bands. This Collins radio has the advantage of covering air, ground, and maritime communications – previously, this level of coverage was only possible through the use of multiple radio sets. The new RT-1556 is also compatible with a number of US data links used for air-to-air and air-to-ground targeting.  Source casr.ca
AN/AYK-14 XN-8 mission computer
The AN/AYK-14(V) is a conduction cooled airborne computer that was designed in 1976 by the Control Data Aerospace Division in Bloomington, MN. It has a microprogrammed 16-bit CPU based on AMD 2900 series ICs that can use 4, 8, 16, or 32-bit data. The processor runs between 0.3 and 2.3 MIPS depending on the instruction mix. The instructions are a superset of the AN/UYK-20 computer and it can run AN/UYK-20 software. SInce it is an airborne computer it is designed for use at altitudes up to 70,000 feet and temperatures from -54C to 71C.
The AN/AYK-14(V) design was started in 1976, and the original price was $185,000. It was designated the US NAVY's Standard Airborne Computer in 1986. The processor design was upgraded in 1987, with a single SCP board replacing the previous three CPU, GPM, and EAU boards, and delivering 2x the performance and 8x the memory. In 1991 the processor was upgraded again, the VPM delivering 18 MIPS.
The CDC division was acquired by General Dynamics Advanced Information Systems. Over 10,000 of these computers have been made. The AN/AYK-14(V) is still in use in many aircraft, including the F/A-18A-F, SH-60B, E-2C, AV-8B, A-6F, EA-6B, F-14D, S-3, EP- 3, V-22, ACLS, and the MK-50 Torpedo. Source ricomputermuseum.org
Lockheed Martin' Sniper pod
Lockheed Martin's Sniper ATP (Advanced Targeting Pod)  Picture: Lockheed Martin – Image: navyrecognition.com
Mission
Sniper pods provide improved long-range target detection/identification and continuous stabilized surveillance for all missions, including close air support of ground forces. The Sniper pod enables aircrews to detect and identify weapon caches and individuals carrying armaments, all outside jet noise ranges. Superior imagery, a video datalink and J-series-weapons-quality coordinates provided by the Sniper pod enable rapid target decisions and keep aircrews out of threat ranges.
High resolution imagery for non-traditional intelligence, surveillance and reconnaissance (NTISR) enables the Sniper pod to play a major role in Air Force operations in theater, providing top cover for ground forces, as well as increasing the safety of civilian populations.
The Sniper pod is combat proven on U.S. Air Force and international F-15E, F-16 (all blocks), B-1, A-10C, Harrier GR7/9 and CF-18 aircraft. Lockheed Martin is also in the final stages of integrating the Sniper pod on the B-52. The pod's plug-and-play capability facilitates moving the pod across platforms without changing software.
Features
Sniper pods include a high definition mid-wave forward looking infrared (FLIR), dual-mode laser, HDTV, laser spot tracker, laser marker, video data link, and a digital data recorder. Advanced image processing algorithms, combined with rock steady stabilization techniques, provide cutting-edge performance. The pod features automatic tracking and laser designation of tactical size targets via real-time imagery presented on cockpit displays. The Sniper pod is fully compatible with the latest J-series munitions for precision weapons delivery against multiple moving and fixed targets.
Advanced Targeting Pod – Sensor Enhancement (ATP-SE) design upgrades include enhanced sensors, advanced processors, and automated NTISR modes.
The Sniper pod's architecture and modular design permits true two-level maintenance, eliminating costly intermediate-level support. Automated built-in test permits flightline maintainers to isolate and replace an LRU in under 20 minutes. Spares are ordered through a user-friendly website offering in-transit visibility to parts shipment.
The Sniper pod's modular design also offers an affordable road map for modernizing and enhancing precision targeting capabilities for U.S. Air Force and coalition partner aircraft.
General characteristics
Primary function: positive identification, automatic tracking and laser designation, NTISR
Prime contractor: Lockheed Martin
Length: 98.2 inches (252 centimeters)
Diameter: 11.9 inches (30 centimeters)
Weight: 446 pounds (202 kilograms)
Aircraft: F-15E, F-16 Block 30/40/50, A-10, B-1
Sensors: high resolution FLIR and HDTV, dual mode laser designator, laser spot tracker and laser marker
Source af.mil
Other works in Phase I included replacement of the existing mission computer and stores management with General Dynamics AN/AYK-14 XN-8 mission computer and Smiths Aerospace AN/AYQ-9 Stores Management System respectively.
General Dynamics AN/AYK-14 XN-8 mission computer
The original computers on the CF18 have been likened to the Commodore 64 PC. Indeed, when compared to today's standard home computers, any of the mission computers installed in fighter aircraft might seem positively antiquated. However, even the new upgrade computers will not perform much better than the Pentium I or 486 processor. There's a very good reason for this apparent lag in technology. What the new fighter aircraft computers lack in computer power, they more than make up for in ruggedness. Part of the lag between personal/commercial computer developments and military computers like the AN/AYK-14 can be attributed to all the testing required to qualify equipment for military specifications. Your lap-top or desk-top computer might be powerful but,  how long would it keep working at 35,000 feet, in -50°C tempuratures, and under a force of five times normal gravity?  Source casr.ca
AN/AYQ-9 Stores Management System
CF18s have nine mounting points on their wings and fuselage
CF18s have nine different mounting points on their wings and fuselage to carry fuel or ordnance. Any thing hung on one of these mounting points is called a store. A Stores Management System  (SMS)  does exactly what its name describes providing the pilot with information identifying the stores and information on the status of each item. The SMS also integrates all of the controls and logic to launch and fire (or jettison) any of the stores. The SMS also relays pre-launch sensor and navigation system data to air-to- air missiles and precision-guided munitions.
Modern missiles and PGMs rely heavily upon the onboard sensors prior to their launching (the connection between such stores and the SMS is likely through a MIL-STD-1760 electrical and digital weapon interface).  A modern SMS – like the AN/AYQ-9 – is an important element of the ECP 583 upgrade because it will make the CF18s compatible with a wide array of weapon and reconnaissance systems. For example:  the new AIM-120 AMRAAM requires a MIL-STD-1760 interface to receive its pre-launch targeting data from the APG-73 radar. Source casr.ca
Phase II was completed in March 2010 and had cost $150m. It included integration of a Link 16 data net system, a joint helmet mounted cueing system (JHMCS), a crash survivable flight data recorder (CSFDR) and a flare dispensing electronic warfare suite into the aircraft. The JHMCS facilitates the pilot to designate targets around the aircraft.
Incremental Modernization Project Phase II
Phase II of the CF-18 Incremental Modernization Project was awarded to Boeing on 22 February 2005. It consists of the following upgrades:
Addition of a Link 16 data net system to the aircraft, enhancing interoperability with major NATO allies.
Integration of the Joint Helmet Mounted Cueing System from Boeing, BAE Systems, DRDC and L-3 Communications MAS.
Addition of a crash survivable flight data recorder.
Upgrade of the electronic warfare suite.
Within the same time frame, other non-IMP upgrades include:
A fuselage Centre Barrel Replacement Project (for 40 of the upgraded aircraft).
An Air Combat Manoeuvring Instrumentation System.
An Integrated Electronic Warfare Support Station.
An Electronic Warfare Test Equipment Project.
The first completed "Phase II" CF-18 was delivered to the Canadian Forces on 20 August 2007, at a ceremony in Montreal. The total cost of the entire CF-18 Incremental Modernization Project and concurrent Hornet upgrades was expected to be around C$2.6 billion. The final upgraded aircraft was delivered in March 2010.
The total program cost for the CF-188 purchase and upgrade programs is approximately $20.21 billion including upgrades, in 2011 dollars. Additionally, the cost of maintenance for any 20-year period has been approximately $5 billion, or $250 million per year.  Source liquisearch.com
Joint Helmet Mounted Cueing System
The Boeing Joint Helmet Mounted Cueing System (JHMCS) combines a magnetic head tracker with a display projected onto a pilot's visor, giving the pilot a targeting device that can be used to aim sensors and weapons wherever the pilot is looking. It does so by synchronizing aircraft sensors with the user's head movements so they automatically point where the pilot looks and displaying flight information on the inside of the helmet visor so data is always in view.
To aim and fire a missile, pilots point their heads at the targets and press a switch on the flight controls to direct and fire a weapon. To attack a ground target, pilots can acquire the target with a sensor and note its location on the helmet display. Alternatively, pilots can use the helmet display to cue sensors and weapons to a visually detected ground target.
In a dual-seat aircraft, each crewmember can wear a JHMCS helmet and perform independent operations with continuous awareness of where the other crewmember is looking.
The high off-boresight seeker (HOBS) system consists of the JHMCS and the AIM-9X high off-boresight air-to-air missile. The AIM-9X is an advanced short-range dogfight weapon that can intercept airborne targets located at high off-boresight lines of sight relative to the shooter. The combination of JHMCS and AIM-9X results in a weapon that can attack and destroy an airborne enemy seen by the pilot. This weapon can be employed without maneuvering the aircraft, minimizing the time spent in the threat environment.
Source boeing.com
Image: glaciermedia.ca
Link 16 data net system
Image: globalmilitarycommunications.com
ViaSat's team is leading the transformation in Link 16 Airborne Terminal technology by being the first to upgrade the design of many components of the terminal to provide greater flexibility, enhanced technological capabilities, decreased cost and improved reliability. Embedded modules provide COMSEC and TACAN.
Through extensive use of reprogrammable components and a modular VME architecture, we've provided a lower cost design while also allowing for future requirements. Our terminal provides all operational modes of the Link 16 waveform, and implements all required Multifunctional Information Distribution System (MIDS) host interfaces for both U.S. and Coalition integration. Our hardware implements Enhanced Throughput, a new capability that can increase coded data throughput from its current maximum of 115.2 kbps to over 800 kbps. Host interfaces and operational employment of this capability are still in the planning stages.
Together with Harris and European Aeronautic Defense and Space Company (EADS), ViaSat is delivering a family of combat-proven, fully qualified, and EMC-Certified Link 16 MIDS terminals to U.S. Forces and Coalition partners under contracts to the Navy MIDS International Program Office (IPO) and other commercial customers. Source viasat.com
AN/ALR-67 (V) 3 RWR
Image: defenceindustrydaily.com
The Raytheon AN/ALR-67(V)3 Radar Warning Receiver set is one part of  DND's CF-18 Incremental Modernization Program. As the name suggests, this set warns CF-18 pilots when their aircraft are being 'painted' by hostile radar. A Foreign Military Sales  notification was filed  with the US government  to allow Canada to purchase 59 AN/ALR-67(V)3 sets as well as spares, support equipment, and  training. These Raytheon sets would then replace CF-18's existing 1970s-vintage NorthropGrumman AN/ALR-67(V)2s.  Source casr.ca
The AN/ALR-67(V)3 Advanced Special Receiver is a radar warning receiver (RWR) designed to meet Navy requirements through the year 2020. This is an upgrade to the ALR-67 (V)2 system currently used on F/A-18 Hornet, F-14 Tomcat, and AV-8 Harrier aircraft. It will enable Navy and Marine Corps tactical aircraft to detect threat radar emissions, thus enhancing aircrew situational awareness and aircraft survivability. The program is in the Engineering and Manufacturing Development (EMD) phase, with development work by Hughes, Los Angeles, CA.
The AN/ALR-67(v)3 ASR contributes to full-dimensional protection by improving individual aircraft probability of survival through improved aircrew situational awareness of the radar guided threat environment.  Source fas.org
Canadian military to ask Ottawa to approve up to $500 million in spending for CF-18 upgrades:
Here
Excerpt
The Canadian military is hoping to ask the government early next year for approval to spend up to $500 million to modernize its CF-18 fighter jets.
The upgrade would keep the planes flying until 2025, giving the government some breathing room to organize the purchase of replacements and make sure they are delivered before the older jets are taken out of service.
Work has already started to ensure the CF-18s are structurally sound.
Now, the military is analyzing improvement options for communications equipment to deal with changes in civil aviation regulations. There could be other upgrades to weapons and how the CF-18s communicate and operate with Allied fighter jets.
"This project is expected to go for potential government submission early in 2017," said Ashley Lemire, Department of National Defence spokeswoman.
The options focus "on what is required from a regulatory and interoperability perspective."
The DND estimates the cost of the modernization at between $250 million and $499 million, depending on the options chosen and what the government accepts, say defence sources.
Military officers say the upgrades will have to be done by 2021 to make financial sense — new fighter jets are expected by 2025. That means decisions on the upgrades must be made and contracts placed by 2018.
Features
Image: squarespace.com
The CF-18 Hornet features a high-powered night identification light fitted in the gun loading door. A dummy canopy under the aircraft's fuselage confuses the enemy while executing air-to-air combat missions.
Pilot seat CF-18WSO CF-18B
The aircraft is equipped with an infra-red sensor pod, colour LCD displays, a night vision imaging system, a combat training system, an air combat guiding instrumentation system, and rough landing gear.
Sniper targeting pod on a Canadian Air Force CF-18 Hornet, showing that the Sniper is already compatible with F/A-18 Hornet naval fighters Picture: Lockheed Martin – Image: defenseindustrydaily.com
Canada announces plan to replace fighter jet fleet:
Here
F18 Super Hornet:
Details

Armaments
The CF-18 features nine hardpoints of which one is located under fuselage, four on wing stations, two on the sides of the fuselage and two on the wingtips. The fighter craft can carry 6,215kg of payload including rockets, bombs, fuel tanks and gun pods.
2 LAU 116 on sides of fuselage: deploy AIM-7 Sparrow and AIM-120 AMRAAM missiles; 2 LAU 7 on the wing tips: deploy AIM-9 Sidewinder missiles. Source wikiwand.com
LAU-116/A and LAU-116A/A Guided Missile Launcher
LAU-116/A provides for the carriage and launch of the AIM-7 series SPARROW – Image: largescaleplanes.com
The LAU-116/A provides for the carriage and launch of the AIM-7 series SPARROW missile from the F/A-18A aircraft. The LAU-116A/A is also capable of launching the AIM-120 AMRAAM missile. Two launchers, one left hand and one right hand, are installed in the underside of the aircraft fuselage at stations 4 and 6. The launchers are recessed in cavities within the aircraft fuselage, allowing the missiles to be semi recessed for aerodynamic purposes. Both versions of the LAU-116 are ejection launchers. Source fas.org
The aircraft is fitted with a 20mm M61A1 Vulcan internal gatling gun (578 rounds) which can fire 4,000 to 6,000 munitions per minute.
20mm M61A1 Vulcan
The M61A1 Vulcan cannon is a six-barrel 20mm gun capable offiring 6,600 rounds per minute. Its operation is based upon the principle used in the rapid-firing gun invented byRichard J. Gatling in the 1860s. The six rotating barrels,firing one at a time, permit a high rate of fire while at thesame time reducing the problem of barrel wear and heat generation.The gun can be driven electrically, hydraulically, or by a ram-air turbine. The Vulcan has equipped such USAF aircraft as the F-104, F-105, F-15, F-16, F/A-18, A-7D,F-111A, F-4E, B-58, and B-52H.
General characteristics

Type
Cannon Gatling
Contractor
General Electric
Range
1 mile
1.6 km
Caliber
0.79 in
20mm
Weight
255 lb
102 kg
Mounted
Internally
Muzzle velocity
3,400 ft/s
3,730 km/h
Rate of fire
6,600 rounds per minute
Magazine capacity
515
Source military.cz
It is capable of being equipped with a wide variety of bombs such as Paveway, Mk 82, Mk 83, Mk 84, GBU-10, -12, -16 and -24 laser guided bombs.
The aircraft is also furnished with AIM-9 Sidewinders, AIM-120 AMRAAM and AIM-7 Sparrow air-to-air missiles. The air-to-ground missile installed in the hornet encompasses AGM-65 Maverick and CRV7 rockets.
AIM-9 Sidewinder
Sidewinder AIM-9L/M
The Lima was followed in production in 1982 by the AIM-9M, which is essentially an improved AIM-9L. The Mike has improved background rejection, counter-countermeasures capability and a low smoke motor to reduce the visual signature of the inbound weapon. The AIM-9M has the all-aspect capability of the AIM-9L model, but provides all-around higher performance. The M model has infra-red countermeasures, enhanced background discrimination capability, and a reduced-smoke rocket motor. Deliveries of the initial AIM-9M-1 began in 1982. The only changes from the AIM-9L to the AIM-9M were related to the Raytheon Guidance Control Section (GCS). Several models were introduced in pairs with even numbers designating US Navy versions and odd for US Air Force. All AIM-9M GCS are comprised of three major assemblies; a seeker assembly for detecting and tracking the target; an electronics assembly for processing detected target information; and a servo assembly that transforms electrical tracking signals to mechanical movement of the fins. An umbilical cable assembly provides electrical interface between the missile GCS and the aircraft launcher. The umbilical I-3 cable also allows the flow of coolant from the LAU-7 to the missile GCS. AIM-9M GCS versions include the WGU-4A/B used in the AIM-9M-1 and AIM-9M-3, the WGU-4C/B used in the AIM-9M-4, the WGU-4D/B used in the AIM-9M-6, and the WGU-4E/B GCS used in the AIM-9M-8. The WGU-4E/B GCS uses advanced technology that has evolved through the WGU-4D/B development, while expanding the potential of the IRCM detection circuitry and improving the missile's capability with respect to tactical IRCM deployment. Source scramble.nl
Image: rcaf-arc.forces.gc.ca
AIM-120 AMRAAM
The AIM-120 AMRAAM (Advanced Medium-Range Air-to-Air Missile) is one of the most modern, powerful, and widely used air-to-air missiles in the entire world. After it entered limited service in 1991, this missile has been exported to about 35 countries around the world, where it has certainly been proven with over 3 900 test shots and 10 combat victories.
By the 1980s, the US deemed its current stock of air-to-air missiles, particularly the medium-range AIM-7 Sparrow, were obsolete, or at least not as capable as the latest Soviet missiles of the time. While the Sparrow was effective, with about 60 kills, it was not effective enough. In particular, it had one crushing fault—it was not fire-and-forget, meaning that the pilot was forced to remain on the scene and in danger until the missile reached its target. So, development of the AIM-120 AMRAAM began, along with European development of a short-range missile, resulting in the ASRAAM. In 1991, the AMRAAM entered limited service in the US Air Force. Two years later, it was fully operational there as well as the US Navy, while other countries started to show considerable interest.
Image: defenceindustrydaily.com
Country of origin
United States
Entered service
1991
Missile
Missile length
3.66 m
Missile diameter
0.18 m
Fin span
0.53 m
Missile launch weight
150.75 kg
Warhead weight
22.7 kg
Warhead type
HE blast-fragmentation
Range of fire
up to 75 km
Guidance
active radar homing
Source military-today.com
AIM-7 Sparrow air-to-air missile
The AIM-7 Sparrow is a medium-range, semi-active, air-to-air missile designed to counter high-performance aircraft. The Sparrow missile was deployed in 1953 and has been acquired by many air forces of the world. The Sparrow missile has an annular blast fragmentation warhead in excess of 40 kilograms. Currently, The high-performance AIM-120 missile is replacing the Sparrow missile in the role of medium range, air-to-air missile in the United States and allied nations.
The AIM-7M Sparrow achieved operational status in 1982. It has improved reliability and performance over earlier models at low altitudes and in ECM environments. Its software was also improved.
Dimensions
Diameter: 200 millimeter
Length: 3.66 meter (12.0 foot)
Wingspan: 1.02 meter
Performance
Max Range: 55,000 meter (29.7 nautical mile)
Speed
Top Speed: 1,190 mps (4,285 kph)
Weight
Warhead: 40 kilogram
Weight: 227 kilogram (500 pound)
Source deagel.com
AGM-65 Maverick
Specification: twolftfeet.com
CRV7 rockets
Paveway laser guided bombs
Paveway is a series of laser-guided bombs (LGBs).
Pave or PAVE is sometimes used as an acronym for precision avionics vectoring equipment; literally, electronics for controlling the speed and direction of aircraft. Laser guidance is a form of Pave.
The Paveway series of bombs includes:
GBU-10 Paveway II – Mk 84 or BLU-109 2,000 lb (907 kg) bomb
GBU-12 Paveway II – Mk 82 500 lb (227 kg) bomb
GBU-16 Paveway II – Mk 83 1,000 lb (454 kg) bomb
GBU-58 Paveway II – Mk 81 250 lb (113.4 kg) bomb
GBU-22 Paveway III – Mk 82 500 lb (227 kg) bomb. Developed at the same time as GBU-24, with some limited export success, but was not adopted by USA as it was felt to be too small a warhead for the desired effects at the time.
GBU-24 Paveway III – Mk 84/BLU-109 2,000 lb (907 kg) class bomb
GBU-27 Paveway III – BLU-109 2,000 lb (907 kg) bomb with penetration warhead, specially designed for F-117 because the large fins of GBU-24 couldn't fit into the bomb bay of F-117.
GBU-28 Paveway III – During the Gulf War, the deepest and most hardened Iraqi bunkers could not be defeated by the BLU-109/B penetrator warhead, so a much more powerful "bunker buster" GBU-28 was developed. The latest warhead used in the GBU-28/B series is the BLU-122/B, a development of earlier BLU-113 on early GBU-28s.
Paveway IV – 500 lb (227 kg) bomb
GBU-48 Enhanced Paveway II – Mk 83 1,000 lb (454 kg) bomb. Raytheon's Enhanced dual-mode GPS and Laser guided version of the laser-only GBU-16.
GBU-49 Enhanced Paveway II – BLU-133 500 lb (227 kg) bomb. Raytheon's Enhanced dual-mode GPS and Laser guided version of the laser-only GBU-12.
GBU-50 Enhanced Paveway II – Mk 84 or BLU-109 2,000 lb (907 kg) bomb. Raytheon's Enhanced dual-mode GPS and Laser guided version of the laser-only GBU-10.
GBU-59 Enhanced Paveway II – Mk 81 250 lb (113.4 kg) bomb. Raytheon's Enhanced dual-mode GPS and Laser guided version of the laser-only GBU-58.
Source wikiwand.com
Image: almanar.com.lb
Engines
Image: militaryaircraft.de
The supersonic fighter aircraft is powered by two General Electric F404-GE-400 turbofan engines. Each engine can produce 71.2kN of thrust.
The length and diameter of the engine are 3.9m and 0.88m respectively. The dry weight is 995kg.
F404-GE-400
F404-GE-400
Initial model for the F/A-18A/B. Also proposed for F-20 Tigershark. The F404-GE-400D was a proposed non-afterburning version for the A-6F Intruder. Source wiki.scramble.nl
F-20 Tigershark:
Details
F404, augmented turbofan with low bypass ratio, was developed in min 70's on the base of J101-GE-100's core. Performance and reliability of F404 made a new standard for modern jet engines of wide range of military jets – starting with low-altitude strike planes and ending with hi-altitude interceptors. War proved engines accumulated more than 8 millon flight hours in service of US Navy, US Marine Corps, USAF and airforces of Australia, Canada, Finland, Kuwait, Malaysia, Singapore, Spain, Sweden, Switzerland and others.
Construction (F404-GE-400):
3-stage fan with variable vanes of first stator
7-stage compressor with variable inlet guide vanes and vanes of first and second stator stage, airbleed is up to 7,25%
annular combustion chamber
1-stage high-pressure turbine (air cooled)
1-stage low-pressure turbine (air cooled)
afterburner chamber
convergent-divergent exhaust nozzle
control system: hydromechanical, electronical
lubrication system uses MIL-L-5624 or MIL-L-7808 oil, consumption is 0,4 liters per hour
F404 uses standard MIL-5624, JP-4, JP-5 or JP-8 fuel.
F404-GE-400
The first engine of F404 family, the F404-GE-400, was originaly proposed for naval F/A-18, and became one of the best and most widespread engines of that era. Modern materials, simplified diagnostics, well positioned access points and modular construction ensures high lifetime and low operation cost. Modular construction with six modules simplifies replacement of damaged parts and shortens maintenance time (e.g. on aircraft carrier). Visual inspection of interior parts can be accomplished via 13 entry points. The engine needs no special test and fine-tuning after reparation of it's core. Naval usage required corrosion proof components.
Pilots appreciate a free thrust handling, fast RPM response on acceleration or deceleration and smooth maximal thrust to afterburner transition. Engine is in service since 1981, production name is LM1600. Beside the F/A-18 of A, B, C and D version, the engine was used also on F-5G, experimental X-29 and X-31A. It's said that the F404 was one of the possibilities to power the French Rafale. Unaugmented variant of -400 was one of the competitior for upgrade of A-6E planes.
| | | |
| --- | --- | --- |
| Type | – | -400 |
| Weight | kg | 991 |
| Length | cm | 391 |
| Maximal diameter | cm | 89 |
| Inlet diameter | cm | 79 |
| Bypass ratio | – |  0,34 |
| Fan pressure ratio | x | 3,9 |
| Overall pressure ratio | x |  25 |
| Airflow | kg/s | 64,2 |
| Temperature – max turbine inlet |  °C |  1348 |
| – max turbine outlet |   °C |  797 |
| Thrust – maximal (SLS) | kp | 4808 |
| – with afterburner (SLS) | kp | 7257 |
| SFC – maximal thrust (SLS) | kg/kN/h | 87,0 |
|   – afterburner (SLS) | kg/kN/h | 188,6 |
Performance Engine data leteckemotory.cz
The Boeing CF-18 can climb at a rate of 254m/s. The maximum speed of the aircraft is 1,814km/h. The combat radius and ferry range are 537km and 3,330km respectively. The service ceiling is 15,000m.
The aircraft weighs 10,455kg and its maximum take-off weight is 23,400kg.
Image: the-blueprints.com
Technical Specifications
Image: globalaviationresource.com
Aircraft Description
The CF-188 is a multipurpose, high-performance twin-engine fighter that can handle both air-to-air (air defence, air superiority, combat air patrol) and air-to-ground (close air support, battlefield air interdiction) combat. Its on-board computer systems can quickly be re-programmed to the mission at hand.
(Note: The CF-188 is officially designated the "CF188" in Canadian use, although mainly in official or technical documentation.)
Adapted from the American F/A-18, the Canadian version of the jet features:
a sidewards-aimed searchlight beneath the fuselage for nighttime visual identifications
survival equipment adapted to the Canadian environment
various cockpit layout modifications
a paint scheme incorporating a "spoof" canopy on the underside of the front fuselage, intended to confuse opponents during aerial combat manoeuvres
Length
17.07m
Wingspan
12.31m
Height
4.66 m
Weight
10,455 kg
Power
2 General Electric F404 low bypass turbofan engines
Thrust
Standard: 4,850 kg (10,700 lbs.)
Afterburner: 7,290 kg (16,000 lbs.)
Max. Speed
Mach 1.8
Service Ceiling
15,000 m
Range
3,700 km
Weapons
Air to Air: AIM 9M IR guided missile, AIM 7 radar guided missile, AIM 120 radar guided missile, 20 mm canon
Air To Ground: Mk 82, Mk 83, Mk 84 , GBU 10, 12, 16 and 24 laser guided bombs, GBU 31 and 38 GPS guided bombs and the 20 mm cannon
Crew
1 pilot (CF-188A), 2 pilots (CF-188B)
Year(s) procured
1982 to 1988
Quantity in CF
77 modernized aircraft
Location(s)
3 Wing Bagotville, QC
4 Wing Cold Lake, AB
Technical data rcaf-arc.forces.gc.ca
Main material source airforce-technology.com
Updated Jul 22, 2017