01 JULY, 2016 BY: LEIGH GIANGRECO  WASHINGTON DC
Air Force Special Operations Command has accepted that it will trade some offensive capability for cost savings and fielding time on its future laser-equipped Lockheed Martin AC-130J Ghostrider if the laser is mounted on the side of the aircraft.
Although a laser turret mounted on the bottom of the gunship will provide more offensive and defensive capability in the long run, the belly-mounted turret would cost more and take much longer to develop, an Air Force spokesman told FlightGlobal this week. The side configuration would require fewer modifications to the existing aircraft, he added.
A recent Air Force Scientific Advisory Board study examined the laser's placement in a turret on the aircraft's belly versus mounting the laser on the side in place of the 30-millimeter gun. The AFSAB found the side-mount position would reduce the area the laser could prosecute since the aircraft itself would block its effective hemisphere. Half of that hemisphere points upward, a direction that's largely useless against surface-to-air missiles, AFSAB chair Werner Dahm said in a June 24 email to FlightGlobal. The belly-mounted turret would have full range to target SAMs.
"To keep demo costs down they [AFSOC] are considering putting the turret in the existing side hole, where the gun currently sits," Dahm said. "This will still allow us to learn a lot about how to employ a laser in AFSOC missions, but it is not nearly as useful as having the turret on the bottom in the demo."
But AFSOC chief Lt. Gen. Bradley Heithold, who is pursuing an aggressive schedule for the laser gunship and plans to field a testbed by 2020, would make the capability tradeoff in order to field the aircraft faster.
"I believe it's the easiest thing to do, rather than a turreted system where you're bouncing the laser around it," he told FlightGlobal following a speech at the June 23 Directed Energy Summit in Washington. "Let's go simple, let's shoot it off the left side and eventually it will evolve."
Heithold argues that while AFSOC would lose offensive capability on the laser gunships, he plans to field the weapon on a very small number of AC-130s. AFSOC would maintain its kinetic capability with Griffin and Hellfire missiles still fielded on the majority of its gunships, but the side-mounted laser would fill a capability gap by delivering the element of surprise.
"I don't plan to take the 30mm gun off of all my airplanes" he said. "What I plan to do is take it off three or four, and put in there a surprise package there with the laser."
Both Heithold and the Air Force's new chief of staff, Gen. David Goldfein, hope future directed energy weapons can deliver what they have coined as "silent sabotage." During the summit, Heithold appealed to industry to field the laser gunship quickly for hostage rescue missions, but he also outlined his plan to operate a low-observable aircraft for silent sabotage. In a Congressional hearing in June, Goldfein described the Air Force's plan to complete stealthy, laser attacks.
"Right now when I want to, or when we want to place firepower on the enemy, they and everyone else in the area knows we're there," Goldfein said. "What we need is a capability to create an effect and not have them know exactly where it came from or who."
Source flightglobal.com
****-END-****
AC-130J Ghostrider
What goes into the C-130J platform
The AC-130J Ghostrider will inherit the AC-130W Stinger II's precision strike package, which was developed to support ground forces in overseas contingency operations.
Insurgent activity in urban environments created the need for an airframe that could deliver direct fire support to ground forces and precisely engage enemies with low-yield munitions.
"These new weapon systems and small diameter bombs will provide overwatch and further standoff distance to cover a wider range of space for our warfighters on the ground," said Maj. Stuart Menn, U.S. Special Operations Command Det. 1 commander.
The precision strike package includes dual electro-optical infrared sensors, a 30-mm cannon, griffin missiles, all-weather synthetic aperture radar and small diameter bomb capabilities. The sensors allow the gunship to visually or electronically identify friendly ground forces and targets at any time, even in adverse weather. Source af.mil
The first MC-130J to be converted into Air Force Special Operations Command's newest variant of the gunship, the AC-130J Ghostrider, arrives at Eglin Air Force Base, Fla., Jan. 3, 2013. Modifications to the airframe will be completed in ten months and will be a milestone in the recapitalization of the AC-130H/U fleet. (Courtesy photo) @af.mil
Special Operations Aircraft to be Outfitted with Laser Weapon 
March 2016 
By Yasmin Tadjdeh  
Excerpt
Air Force Special Operations Command expects to equip a directed energy weapon on its new AC-130J Ghostrider gunship by 2020, said its commander. 
Officials said the combat aircraft — which will be used for close-air support and air interdiction — is an ideal platform for a laser.
"Most of the senior leadership in the Air Force would argue that the logical step to the advancement of high-energy lasers in the battlefield is to use this AC-130 platform" and then move on to a fighter jet, said Lt. Gen. Bradley Heithold, commander of AFSOC. "It makes too much sense. Use me as a way to get where you finally want to go."
The AC-130J — a modified C-130 Hercules transport aircraft built by Lockheed Martin — has more size, weight and power than a fighter, making it an appropriate platform to use initially, he told National Defense.
AFSOC has been working with industry, Defense Department laboratories and think tanks to mature lasers. "We believe technology is ripe to move this forward," he said.
Heithold described lasers as a leap-ahead technology over precision strike munitions. The development of such systems goes hand in hand with the Defense Department's third offset strategy, which aims to maintain the United States' technological edge, he said.
"The next evolution is here and this is where I would argue that I'm at the red zone," he said. AFSOC is working closely with Special Operations Command's acquisition arm to field the technology, he added.
AFSOC anticipates it will have its first laser on board a gunship and in demonstrations by 2020, he said. For now, the command is aiming to equip it on four systems, but that number could be adjusted. "It all depends on where this technology goes. You may find that eventually all AC-130s have it," he said. Posted by nationaldefensemagazine.org – Read full article HERE
C-130 experimental plane with laser turret under the fuselage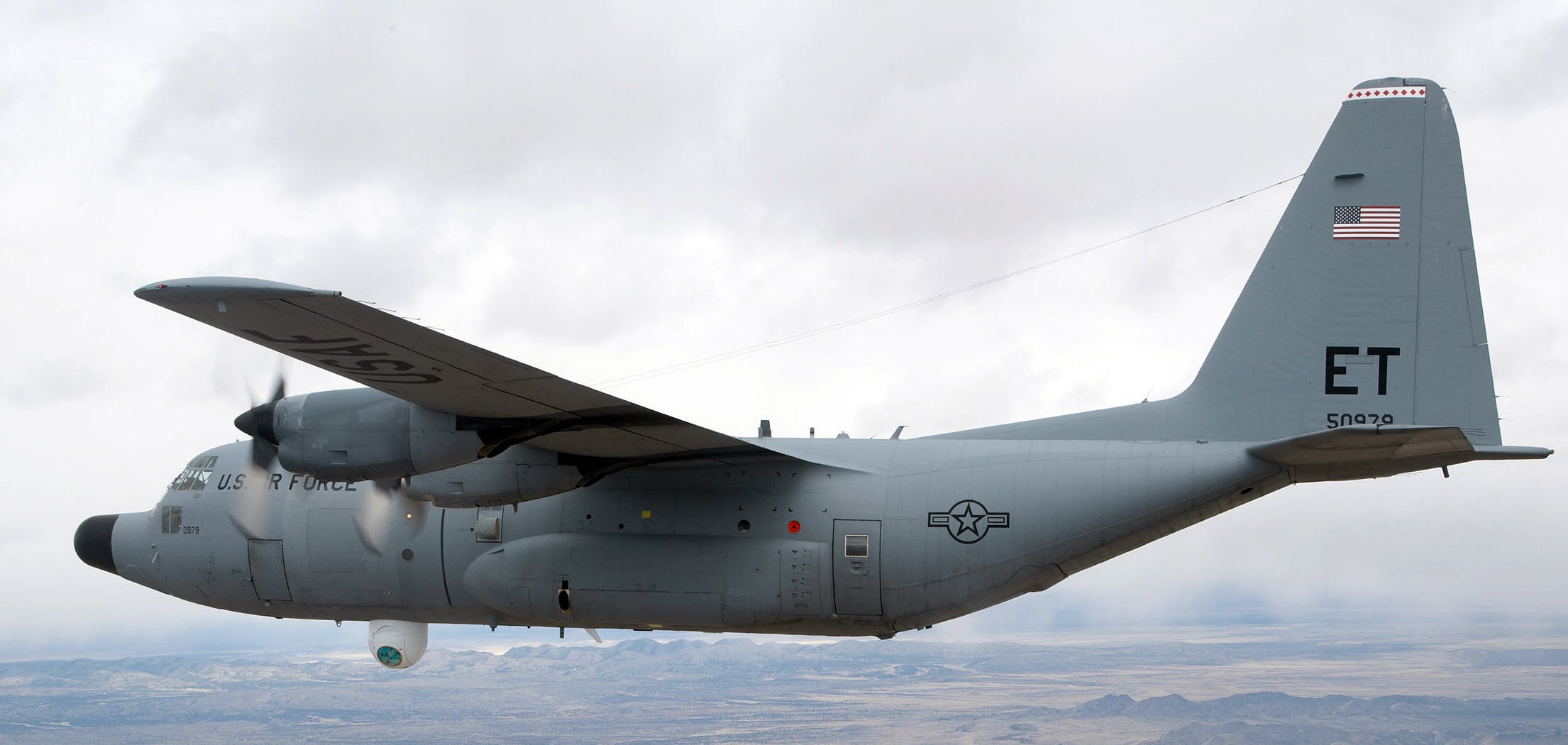 Example of laser weapon