Under the deal, 120 of the 145 guns will be assembled in India
New Delhi: India's defence procurement agency has cleared a proposal to buy 145 M777 Ultra Lightweight Howitzer artillery guns from BAE Systems in a deal worth an estimated $750 million, a defence ministry source said on Saturday.
Under the deal, 120 of the 145 guns will be assembled in India, said the source, who asked not to be identified in line with defence ministry rules.
Prime Minister Narendra Modi wants to upgrade the country's military hardware by replenishing its range of artillery weapons after years of delays in ordering new equipment.
But Modi wants deals with foreign companies to include the setting up of factories and plants in India to boost the local industry.
BAE said in February it had chosen Indian conglomerate Mahindra Group to build a plant for the assembly of Howitzer artillery guns it hopes to sell to India.
The source said the proposal would soon be communicated to the United States, where BAE manufactures the weapons.Reuters
Original post livemint.com
****-END-****
M777 155mm Ultralightweight Field Howitzer
The M777 has been developed by BAE Systems Land Systems (RO Defence, formerly the Armaments Group of Vickers Shipbuilding and Engineering Ltd) at Barrow-in-Furness.
M777 howitzer A1 and A2 variants
The M777 will be the artillery system for the Stryker Brigade Combat Teams (SBCT). The M777 is normally operated by a crew of eight men but can be operated with a reduced detachment of five.
The systems fitted with the digital fire control system are designated M777A1, and those with the software update which allows the firing of the Excalibur projectile, M777A2. M777A2 received full material release in July 2007, clearing the upgrade for fielding. All M777A1 systems will be upgraded to the A2 standard.
The M777 was deployed by the US Army and Marine Corps to Afghanistan in December 2007 and to Iraq in 2008.
The Excalibur projectile was first deployed in Afghanistan in March 2008.
Excalibur projectile
Excalibur is the world's first GPS driven projectile.
Engineers had to make delicate circuitry inside an artillery round. That's like dropping a computer from the top of a skyscraper and expecting it to work! But that's not the only thing that makes Excalibur the present and future choice for artillery.
Excalibur is a 155mm artillery round that can strike within 10 meters of its intended target. It has a 40 kilometer range that has a high angle of attack. Why is that important? Well, in combat, enemy combatants can hide near infrastructure that makes them hard to eliminate. That's because typical artillery's angle of attack is somewhere around 45 to 50 degrees. Excalibur's angle of attack is somewhere around 80-85 degrees. That makes hiding nearly impossible.
And Excalibur virtually eliminates one of the most dangerous aspects of modern combat – friendly fire. In tests, Excalibur was fired with a 15 degree misfire. Now, over big distances, that is a huge mistake! Well, Excalibur's GPS system and Canard Control Guidance took over and reguided the round back to within 2 yards of its intended target! That's impressive. Source gopaultech.com
By August 2008, over 400 systems had been delivered to the US Army and USMC.
The Indian Ministry of Defence (MoD) has requested for 145 M777s from multiple contractors under a foreign military sales (FMS) contract.
The $885m contract will also include procurement of associated equipments and logistical support services for the aircraft.
The MoD, however, failed to sign off a deal by the 15 October 2013 deadline imposed by BAE, causing the company to initiate shut down of its M777 howitzers production line at Burrow-in-Furness, UK.
M777 armament
The M777 matches the firepower of current generation 155mm towed systems at less than half the weight. The Howitzer is equipped with a 39-calibre barrel. The muzzle velocity (at Charge 8 super) is 827m/s.
The maximum firing range is 24.7km with unassisted rounds and 30km with rocket-assisted rounds. The M777A2 will fire the Raytheon / Bofors XM982 Excalibur GPS / Inertial Navigation-guided extended-range 155mm projectiles using the Modular Artillery Charge Systems (MACS). Excalibur has a maximum range of 40km and accuracy of 10m.
First firing trials of the M777A1 with Excalibur took place in August 2003. First production rounds were delivered in September 2006. Excalibur successfully completed limited user test in March 2007. It was first fielded in Iraq in May 2007 and in Afghanistan in February 2008.
The M777 is able to deliver up to five rounds a minute under intense firing conditions and is able to provide a sustained rate of fire of two rounds a minute.
Fire control
The LRIP systems employ an optical sighting system for direct and indirect firing by day or night. Full production systems will be fitted with the General Dynamics Armament Systems Towed Artillery Digitisation (TAD) system. LRIP systems will be retrofitted with TAD.
The TAD digital fire control system provides onboard ballistic computation, navigation, pointing and self-location, providing greater accuracy and faster reaction times.
The TAD system also includes a laser ignition system, electric drives for the howitzer's traverse and elevation and a powered projectile rammer. Source army-technology.com
MAX RANGE
18.6 mi; (Excalibur)25 mi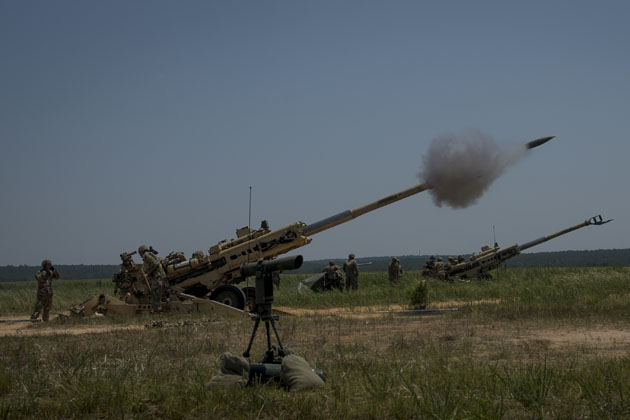 The M777 Lightweight 155mm howitzer provides timely, accurate and continuous firepower in support of Marine and Army infantry forces and replaces the M198 towed Howitzer.
In 2005, the Army and Marine Corps began fielding the M777, a much smaller, lighter (9,000 pounds lighter) and more maneuverable towed cannon weapon than its predecessor, resulting in improved transportability and mobility without impacting range or accuracy. Seven-ton trucks are used to move the M777s, enabling artillery units to move faster between positions.
A must for equipment in an expeditionary force, the howitzer is also highly deployable, able to be lifted externally by both the MV-22 Osprey and CH-53E Super Stallion and a single CH-47 Chinook.
Data military.com