The Lockheed Martin A-4AR Fightinghawk is a major upgrade of the McDonnell Douglas A-4M Skyhawk attack aircraft developed for the Argentine Air Force which entered service in 1998. The program was named Fightinghawk in recognition of the F-16 Fighting Falcon, which was the source of its new avionics.
Image @cavok-aviation-photos.net
Design and development
Background
The Falklands War (Spanish: Guerra de las Malvinas) in 1982 took a heavy toll on the Argentine Air Force, which lost over 60 aircraft. Due to the deteriorating national economic situation and political distrust of the military, the Air Force was denied the resources needed to replace its war losses.
Image @taringa.net
The supply of modern combat aircraft had been restricted since the United States had imposed an arms embargo in 1978 for human rights abuses; there were further restrictions when the United Kingdom also imposed an arms embargo in 1982. The only combat aircraft that the Air Force could obtain were ten Mirage 5Ps, transferred from the Peruvian Air Force; 19 Mirage IIICJs from Israel, veterans of the Six-Day War; and two Mirage IIIB trainers from the French Air Force.
Mirage 5P @blitz72.comArgentina – Air Force Dassault Mirage III E series I-018 @airplane-pictures.net
In 1989, Carlos Menem was elected President of Argentina and quickly established a pro-United States foreign policy which led to the country gaining Major non-NATO ally status. Although the economic situation improved, the funds to purchase new combat aircraft like the Mirage 2000 remained unavailable.
In 1994, the United States made a counteroffer to modernize 36 ex-USMC A-4M Skyhawks in a US$282 million deal that would be carried out by Lockheed Martin and included the privatization of the Fabrica Militar de Aviones (Spanish for Military Aircraft Factory), now Lockheed Martin Aircraft Argentina SA. In 2010, FMA reverted to the Argentine government as Fabrica Argentina de Aviones (FADEA).
Production
Argentine Air Force technicians chose 32 A-4M (built between 1970/1976) and 4 TA-4F airframes from the Aerospace Maintenance and Regeneration Center at Davis-Monthan Air Force Base in Tucson, Arizona to upgrade. The upgrade plans included:
Complete overhaul of the airframe, wiring looms and the Pratt & Whitney J52P-408A engine
Pratt & Whitney J52P-408A engine
Image @geocities.jp
Specifications (J52-P-408)
Data from Flight 
General characteristics
Type: Turbojet
Length: 118 in (300 cm)
Diameter: 38 in (81.4 cm)
Dry weight: 2,318 lb (1,052 kg)
Components
Compressor: Axial flow, 5-stage LP, 7-stage HP
Turbine: Single stage HP, single stage LP
Fuel type: JP-4
Performance
Data @wikiwand.com
Installation of Douglas Escapac 1-G3 ejection seats
Douglas Escapac 1-G3 ejection seats
 Douglas Escapac 1-G3 ejection seats
HGU-55/P helmets
Honeywell Normal Air-Garrett's OBOGS (On Board Oxygen Generation System)
Example of OBOGS
Westinghouse/Northrop Grumman AN/APG-66V2 (ARG-1) radar
Air combat radar AN / APG-66 (ARG-1)
The heart of the A-4AR is the radar AN / APG-66 pulse doppler radar designed specifically for the F-16 Fighting Falcon.It was developed based on the radar Westinghouse WX-200 and designed to operate with medium – range missiles AIM-7 Sparrow and AIM-120 AMRAAM and the short – range missile AIM-9 Sidewinder. Entered service in 1970 and is currently in production with 2500 deployed systems is different countries. The APG-66 was chosen for the 26 F-16N Agressor the US Navy, was also selected to equip the Hawk 200 British outfit in New Zealand modernized A-4 Skyhawk and was chosen by China for its upgrade program fighter J-8 Finback.
the version that gives the a-4AR called ARG-1 is a derivative of the AN / APG-66 version (V) 2 used in the modernization programs Midlife Update for F-16A / B, lighter and better performances than the original (V) 1.
the APG-66 uses an antenna flat (slotted planar-array antenna) located in the nose of the plane, which operates in four frequencies in the band I / J can the pilot to select between any of the four. In the case of ARG-1 this antenna had to be reduced to bring it into the nose of Fightinghawk which in turn also had to be redesigned eliminating unnecessary bumps inherited from the A-4M and adapting the nose cone specifically for the ARG-1 . To achieve greater performance of the antenna , the whole cone was made of composite materials.
Technical data Radar:
LOCAL DESIGNATION: ARG-1
ORIGINAL NOMINATION: AN / APG-66 (V) 2
MANUFACTURER: Westinghouse (now Northrop-Grumman)
SOFTWARE: Modified locally
BANDA. I / J
SCOPE AA: 144 Km (Uplook).
SCOPE AS: 40 km (Downlook).
SCOPE MAPPING: 100 km.
SCOPE MET: 100 km.
MTBF: 97 hours approx.
MTTR: 5 minutes
AZIMUT 3.2 degrees.
ELEVATION: 4.86 degrees.
INPUT POWER: 3.58 kW.
WEIGHT: 134.3 kilos / 296 pounds. (APG66)
VOLUME:. 0.102 cubic meters / 3.6 cubic feet
EXPLORATION AZIMUT 60 degrees above or below a vertical center line
EXPLORATION IN ELEVATION: 60 degrees left or right of a vertical centerline
LONG ANTENNA: 74 cm ( APG66)
WIDTH ANTENNA: 48 cm (APG66)
Data taringa.net
HOTAS controls and a 'glass' cockpit (2 CRT color screens)
HOTAS controls and a 'glass' cockpit (2 CRT color screens)
Avionics
Analogs original version M systems were mostly removed and replaced by modern digital avionics and onboard systems and the latest technology developed in an integrated and connected by fiber optic system. Many elements, unlike the original avionics and instruments now have multiple modes and functions.
The aim is that the pilot spend less time checking multiple indicators and dedicated to their specific function: to fly the plane and accomplish the mission. In addition, digital instruments are less prone to failure and therefore more reliable and even easier to maintain and repair.
Yet many digital instruments onboard, have their analog redundant working up to par. Some of these analog instruments are original to the A-4M, such as those relating to the engine, but most were replaced by similar new instruments to those used in the EA-6B project Prowler such as HSI (Horizontal Situation Indicator) speedometer, Artificial Horizon, Altimeter, etc …
Data Bus
All A-4AR systems are connected by a fiber optic network with a digital data bus MIL-STD-1553B it supports 16-bit more than 32 items or remote terminal (Remote Terminals). The control commands between the various peripherals are sent through fiber optics in the form of packets or messages, the data bus controls the sequence of these messages, the size of each and the waiting period between each other. For maintenance of the system, the bus lets you connect a Notebook PC through a fiber optic cable.
Multifunction displays
Other system data are presented to the pilot, two multifunction color displays (MFD) developed by Allied Signal. These analogous to computer monitors small 4×4 inch, a resolution of 480×480 pixels and 256 colors, screens present information obtained by the onboard systems. They may represent the state of weapons, fuel quantity, radar information, the "waypoints" navigation, maps, etc.
Amen controls contrast and conventional brightness, the screens has capacity NVIS (Night Vision Imaging System) night flight.
Technical data Multifunction Displays:
MANUFACTURER: AlliedSignal (now Honeywell)
DISPLAY: RS170 RGB
SIZE: 4×4 inch
RESOLUTION: 480×480 pixels
View angle: ± 25 ° horizontal x ± 28 ° / -2 ° vertical.
COMPATIBLE GOGGLES NIGHT VISION
MTBF: 4000 hours approx.
HOTAS controls
Left is Control stick for A4AR on the right the A4-F
Controls original command were removed and replaced by a new lever and throttle in HOTAS configuration which allows the pilot to control a lot of parameters and options without removing hands from the flight controls.
Some of the possibilities are, select weaponry, mode of operation of the radar, change the mode of "lock" the SHUD or modify the "trim" the plane, all with a simple flick of the thumb.
Data taringa.net
Sextant Avionique/Thales Avionics SHUD
SHUD (Smart Head Up Display)
Image @taringa.net
The display at the height of the vision is a SHUD (Smart Head Up Display) developed by Sextant Avionique (now Thales Avionics) for both daytime operations and night, provided with a UFCP (Up Front Central Panel) with a total volume of 150x520x390 mm and 12 Kg. of weight that makes it particularly suitable for small booths such as the a-4. The glass screen has plenty of data concerning the flight, the mission and own aircraft, such as altitude, heading, speed, amount of fuel, radar modes, selected weapons, information about the target, hooks and navigation data through "waypoints" as being time to the next point, etc. All this information is displayed using digital images projected on the glass SHUD with a field of view of 26 ° and DSP created by a graphics processor integrated into the
system. It also has a color video camera that records the flight.
The UFCP is attached below the screen that lets you enter SHUD all types of navigation data, weapons, fault simulation and control other modes of the system console. The entire assembly is connected via the bus MIL-STD-1553B and also has an interface for RS422 and video connectors. This model of French origin was used in modernization projects MIRSIP, Mirage F-1, Alphajet, Hawk, and the development of MIG-AT and Yrida among others.
Technical Data SHUD
MANUFACTURER: Sextant Avionique (now Thales Avionics)
operating modes: Stroke, Raster / Stroke
FIELD OF VISION: 26 °
SHINE: 10,000 Cd / m2
INTERFACE CONNECTION: 1553 Bus / RS422 / Video
REGISTRATION SYSTEM: Camera Color Video
Graphics Processor : DSP + Thales Avionics proprietary design
CONSOLE UFCP
COMPATIBLE GOGGLES NIGHT VISION
VOLTAGE / CONSUMPTION: 115v / 150w
VOLUME: 150 X 520 X 390 mm
TOTAL WEIGHT: 12kg.
MTBF: 2000 hours approx.
Data taringa.net
Litton/Northrop Grumman LN-100G inertial navigation system
LN 100G GPS Integrated Inertial Navigation System
LN-100G ANSI / GPS, 3-lock (Zero-lock) laser gyro, accelerometer-4, triple and consists of five electronic cards, small and lightweight, advanced technology products is an inertial navigation system,
LN-100G ANSI / GPS, according to the empty card-slot I / O modules with the addition of cards and can be adapted for different applications.

Featuring an open architecture and hardware / software as a flexible system LN-100G, rotary wing can be adapted to fixed-wing and unmanned aerial vehicles.
Features
Flicker (Non-dithered), 18 cm-lock (Zero-lock) gyro and accelerometer technology small
Enhanced GPS / ANSI operation
Tightly coupled integration of GPS
integrated performance
Position <10 m CEP
Speed <0.015 m / sec (*)
Small Size: 28 x 18 x 18 cm
Low weight <10 kg
verified the integrity of software and hardware
LN-100G simultaneously offers three navigation solution, integrated GPS / ANSI, only inertial and GPS only. LN-100G, high accuracy position by combining the GPS and ANSI features, speed and orientation information as well as providing improved protection against tampering and satellite capture (anti-jam) has the ability.
Embedded GPS module L1 / L2 C / P (Y) code has a GPS unit and a RF input for antenna system interface module.
Only available with GPS and just Inertial Position-Velocity-Time solutions integrity and fault monitoring purposes, () 0015 m / s horizontal velocity sensitivity, 5 continuous monitoring of the GPS satellite and is available when applying constant linear velocity.
AN/ARN-147(V) VOR/ILS/GS/MB Receiver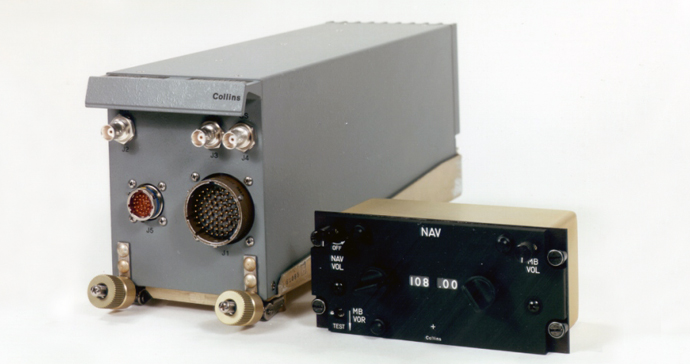 The AN/ARN-147(V) system from Rockwell Collins combines all VHF Omni Ranging/Instrument Landing System (VOR/ILS) functions into one compact, lightweight, low-cost set. And, it's the first militarized VHF navigation receiver to give you optional internal MIL-STD-1553B capability. The solid-state system is MIL-E-5400 class II qualified and meets international operability requirements by providing 50-kHz channel spacing for 160-VOR and 40-localizer/glideslope channels.
Digital and analog outputs of the AN/ARN-147 ensure compatibility with high-performance flight control systems and both digital and analog instruments. rockwellcollins.com
Technical Data Receiver VOR / ILS / GS / MB
MODEL: AN / ARN-147 (V)
MANUFACTURER: Collins (now Rockwell Collins)
CONNECTION: digital via MIL-STD-1553B or analog
CHANNELS: VOR 160 channels, 40 channels ILS.
WEIGHT:. 4.6 kg (10.1 lbs)
POWER : 45 W
MTBF: 5,000 hours
AT-1108 UHF and VHF Antenna
Regarding communications, has two antennas Fightinghawk fiberglass and epoxy AT-1108 UHF and VHF located on the dorsal hump and the top front undercarriage.

VHF equipment is a VHF-22B Collins Proline II that runs between 118,000 to 151,975 MHz bands associated with a digital control panel CTL-22 interconnected via RS-422A connection.

This model is similar to the one installed in the Pucara Delta.
Technical data
MODEL: VHF-22B
MANUFACTURER: Collins (now Rockwell Collins)
CONNECTION: parallel or RS-422A
FREQUENCY: 117,000 to 151,975 MHz
WEIGHT:. 5.6 lbs
Dimensions: 3.750 "x 3.50″ x 13.9 "
RF POWER: 20W nominal (minimum 16W)
OPERATING LIMITS: 6 Gs and maximum 55000 ft
Image @taringa.net
Data Bus
All A-4AR systems are connected by a fiber optic network with a digital data bus MIL-STD-1553B it supports 16-bit more than 32 items or remote terminal (Remote Terminals). The control commands between the various peripherals are sent through fiber optics in the form of packets or messages, the data bus controls the sequence of these messages, the size of each and the waiting period between each other. For maintenance of the system, the bus lets you connect a Notebook PC through a fiber optic cable.
Data taringa.net
Two General Dynamics Information Systems AN/AYK-14 mission computers
Control Data AN/AYK-14(V)
The AN/AYK-14(V) is a conduction cooled airborne computer that was designed in 1976 by the Control Data Aerospace Division in Bloomington, MN. It has a microprogrammed 16-bit CPU based on AMD 2900 series ICs that can use 4, 8, 16, or 32-bit data. The processor runs between 0.3 and 2.3 MIPS depending on the instruction mix. The instructions are a superset of the AN/UYK-20 computer and it can run AN/UYK-20 software. SInce it is an airborne computer it is designed for use at altitudes up to 70,000 feet and temperatures from -54C to 71C.
The AN/AYK-14(V) design was started in 1976, and the original price was $185,000. It was designated the US NAVY's Standard Airborne Computer in 1986. The processor design was upgraded in 1987, with a single SCP board replacing the previous three CPU, GPM, and EAU boards, and delivering 2x the performance and 8x the memory. In 1991 the processor was upgraded again, the VPM delivering 18 MIPS.
The CDC division was acquired by General Dynamics Advanced Information Systems. Over 10,000 of these computers have been made. The AN/AYK-14(V) is still in use in many aircraft, including the F/A-18A-F, SH-60B, E-2C, AV-8B, A-6F, EA-6B, F-14D, S-3, EP- 3, V-22, ACLS, and the MK-50 Torpedo.
Our AN/AYK-14(V) systems are the largest of the three available chassis sizes, the XN-1. Since they were manufactured by CDC, and they contain the first generation CPUs, they are over 30 years old. The processor includes the General Processor module (GPM), and Processor Support Module (PSM), but does not include the optional Extended Arithmetic Unit (EAU). The I/O board in the front of the chassis is probably a Discrete I/O Module (DIM). They are equipped with four 32k x 16-bit, 900 ns, core memory modules. The power supply expects 115VAC, 400Hz, 3-Phase Wye,  input.
Northrop Grumman AN/ALR-93 (V)1 Radar warning receiver
Northrop Grumman AN/ALR-93 (V)1 Radar warning receiver
Receiver RWR, AN / ALR-93 (V) 1
A key component is the radar receiver alert (RWR) AN / ALR-93 (V) 1 manufactured by Northrop Grumman which allows not only to detect when the aircraft is being illuminated by a hostile radar, indicating the path and source of enemy missiles to enable his escape, but is also able to work together with other electronic warfare equipment, automatically switching on the electronic disturbing or shooting cartridges chaff and flares.
the aN / ALR-93 uses a robust architecture composed of a triple receptor which offers great performance in a compact, lightweight system of low power consumption. It covers the C / J bands detecting any RF signal within that range a percentage of probability of close detection of 100% even in very dense areas in RF signals.
The software AN / ALR-93 (V) 1 is stored in an EEPROM memory which allows locally modify both the operational program as the "library emissions" allowing adapt to new threats that could be exposed the plane and its pilot.
Technical Data Receiver RWR, AN / ALR-93 (V) 1
MANUFACTURER: Northrop Grumman
FREQUENCY: Bands C / D, E to J
EMISSIONS DETECTABLE: Signs pulse, continuous wave (CW), pulsed doppler
LIBRARY OF EMISSION: 2000 modes
INTERFACE CONNECTION: 1553 Bus / RS232C / RS422
MODE ALERT: Visual and sound
PRE-PROCESSOR: Fully programmable
sOFTWARE: Language C stored in an EEPROM
MAINTENANCE: Fully locally including software and hardware
WEIGHT: 27 Kg.
POWER: 198 W
MTBF: 742 hours
Disturbing ECM, aN / ALQ-126B
Data taringa.net
AN/ALQ-126B jammer
The AN / ALQ-126B is an electronic troublemaker (jammer) designed to intercept hostile radar signals affecting the plane, and then process them and automatically select the most appropriate method of electronic countermeasures (ECM). The system operates in conjunction with the AN / ALR-93 receptor and can be supplemented with other electronic warfare systems or stand alone. The AN / ALQ-126B covers the bands I / J and allows applying a perturbing signal to electronic band 1Kw by 4-5% of cycles it difficult and / or redraws obtaining coupling (lock) necessary for the enemy missile hostile is triggered. It also has a "Trackbreaker" designed to block signals pulse radar systems, missiles and antiaircraft artillery.
AN / ALQ-126B image @taringa.net
Data taringa.net
ALR-47 chaff/flare dispenser (Argentina records shows AN / ALE-39)
AN / ALE-39 chaff/flare dispenser
The dispenser countermeasures AN / ALE-39 system is capable of launching up to 60 cartridges flares (flares) or sheet metal (chaff) able to confuse and divert enemy missiles, both infrared and radar guide, which are threatening the plane.In the Fightinghawk and other Skyhawks, CMDS dispensers are found in the lower part of the tail section.
A-4K Loral ALE-39 chaff and flair dispensers – image @edkiwi.weebly.com
IFF AN/APX-72
A key device in any aircraft is the current combat system Identification Friend or Foe or transponder IFF (Identification Friend or Foe). The transponder AN / APX-72 system is one of the few teams that were rescued from the A-4M, because it is a system widely tested and effective in numerous NATO military aircraft. APX-function 72 is simple but important receives the IFF signal, decodes, processes and transmits an appropriate response signal, thus preventing the own and allied forces confuse the enemy one plane. Data taringa.net
Transponder
The RT859A/APX-72 is the major component of the AN/APX-72 system. Installed in fixed or rotary winged aircraft or ships, it provides vehicle identification data, traffic control information and altitude reporting on properly equipped aircraft.
Upon receiving an interrogation from an external source, the RT859A/APX-72 decodes and processes the signal, and transmits the appropriate reply to all AIMS interrogators within range.
Mount
The MT3809/APX-72 die cast mount provides a rigid platform for transponder mounting allowing easy removal without vehicle altercation.
MT3948/APX-72 is the same mount with vibration isolators installed.
Transponder Control
The C-6280A(P)/APX control allows the operator to select full range of transponder operating modes, reply codes, identifier pulses, and a self test. The mode 4 controls allow selection of reply light indicator or reply light and audio alarm. Indicator lights for mode 4 and self test are "press to test" types with adjustable intensity. The markings on the panel are illuminated from behind. thumbwheel and rotary switches are also illuminated. Installation is with standard aircraft turnlock fasteners.
In-Flight Transponder Test Set
With the growing use of IFF Transponder Systems, it is increasingly important for pilots to know their IFF system is functioning properly. The TS-1843B/APX Test Set is designed for permanent installation in aircraft or ships as part of the IFF Transponder System. The test set is installed between the IFF Antenna and Transponder RT859A/APX-72. It monitors the performance of the transponder when it is "challenged" by signals from an external interrogator and causes a "TEST" light to illuminate on control panel C-6280A(P)/APX.
Data rexsystems.com
Image @taringa.net
The A-4M airframes were equipped with the TV and laser spot tracker Hughes AN/ASB-19 Angle Rate Bombing System (ARBS) but these were removed after their conversion as A-4AR, as the radar could provide the same data.
The contract stipulated that 8 airframes would be refurbished at the Lockheed-Martin Plant in Palmdale, California and the rest (27) in Córdoba, Argentina at LMAASA (ex-FMA).
At least ten TA-4J and A-4M airframes for use as spare parts, eight additional engines, and a new A-4AR simulator were also delivered.
A-4AR simulator  – Image @taringa.net
Operational history
The Fightinghawks, having received Air Force serials C-901 to C-936, saw their first group arrive in Argentina on 18 December 1997 and the first "Argentine" A-4AR was rolled out on 3 August 1998 at Cordoba. The last one, number 936, was delivered to the Air Force in March 2000. Two aircraft (a one-seat and a two-seat) remain some time in the United States for weapons homologation.
All of the A-4ARs were delivered to the 5th Air Brigade (V Brigada Aérea) at Villa Reynolds, San Luis Province, where they replaced two squadrons of Falklands/Malvinas veteran A-4P (locally known A-4B) and A-4C. They were soon deployed in rotation around the country from Rio Gallegos in the south to Resistencia in the north where they were used to intercept smugglers and drug trafficking airplanes.
In September 1998, just months after their arrival and again in April 2001, United States Air Force F-16s visited Villa Reynolds for the Southern Falcon joint exercise, known as Aguila (Spanish for Eagle) in Argentina. In 2004, the A-4ARs went abroad for the joint exercise Cruzex, along with Brazilian F-5s and Mirages, Venezuelan F-16s and French Mirage 2000s.
F-5E Tiger II & III:

Details
In November 2005 they were deployed to Tandil airbase to enforce a no-fly zone for the Mar del Plata Summit of the Americas and later met Chilean Mirage Elkans, Brazilian AMXs and Uruguayan A-37 at Mendoza for the joint exercise Ceibo.
In July 2006 they were deployed to Cordoba province for the Mercosur's 30th Presidents Summit, while in August and September they went north again to Brazil for the Cruzex III joint exercise with Brazil, Chile, France, Peru, Uruguay and Venezuela.
In June 2008 they were deployed to Tucumán province for the Mercosur's Presidents Summit.
In August 2009 they were deployed to Bariloche for the UNASUR Presidents summit. Later that month they participated at Reconquista, Santa Fe of the Pre-Salitre an exercise of preparation for the Salitre II of next October in Chile with Chile, Brazil, France and the United States.
On 1 May 2010 they participated on the Air Fest 2010 show at Morón Airport and Air Base . On 25 May 2010 three A-4AR flew over the 9 de Julio Avenue at Buenos Aires as part of the Argentina Bicentennial shows.
On August 2010, enforce a no-fly zone at San Juan for the Mercosur's Presidents Summit. On September they join the rest of the air force aircraft at Reconquista, Santa Fe for the ICARO III integration manoeuvers. On November they deploy to Tandil airbase for the XX Ibero-American Summit held at Mar del Plata
In January 2016, Argentine Minister of Defence Julio Martinez confirmed that all Air Force Lockheed Martin A-4AR Skyhawk (Fightinghawk) fighters were grounded. Originally this was due to the expiry of the explosive cartridges in their ejection seats, but apparently there are additional problems. In any case only 4-5 were airworthy with the rest in storage at Villa Reynolds.
Image @taringa.net
Argentine to keep 12 A-4ARs flying for now:

Here
Variants
A-4AR 
32 converted from A-4Ms
OA-4AR 
4 converted from TA-4Fs
Operators
Argentina
Argentine Air Force- 36 received (32 A-4AR, 4 OA-4AR); "4-5" A-4AR in service, two lost, the rest mothballed; one OA-4AR has been lost.
Accidents
As of April 2016 three of the type have been lost in 15 years of service :
6 July 2005: A-4AR registration C-906 near Justo Daract, San Luis Province, pilot Lt Horacio Martín Flores (29 years old) died.
24 August 2005: A-4AR registration C-936 near Río Cuarto, Cordoba, pilot ejected safely.
14 February 2013: OA-4AR registration C-902 crashed on landing at Angel Aragonés airport near Santiago del Estero, both pilots ejected safely.
Specifications (A-4AR Fightinghawk)
Data from FAA Official site and A-4 Skyhawk
General characteristics
Performance
Armament
Image @taringa.net
20 mm Colt Mk 12 cannon

The Mk 12 was an advanced derivative of the wartime Hispano HS 404 that had been used on British and some American fighter aircraft during World War II. It used a lighter projectile with a bigger charge for better muzzle velocity and higher rate of fire at the cost of hitting power. It entered U.S. Navy and U.S. Marine Corps service in the mid-1950s, replacing the earlier M3 cannon.
In service, the Mk 12 proved less than satisfactory. Although its muzzle velocity and rate of fire were acceptable, it was inaccurate and frequently unreliable. Pilots of the F-8 Crusader over North Vietnam, in particular, appreciated the presence of the cannon, but jams and stoppages were common, especially following hard dogfighting maneuvers.
Nevertheless, the Mk 12 was standard cannon armament on gun-armed American naval fighters from the early 1950s to the early 1970s, including the F4D Skyray, F3H Demon, A-4 Skyhawk, F-8 Crusader, F-11 Tiger and early navy versions of the LTV A-7 Corsair II.
Type
Autocannon
Place of origin
United States
Service history
In service
1950s – present
Wars
Vietnam War, Falklands War, Gulf War
Specifications
Weight
46.0 kg (101.4 lb)

---

Cartridge
20×110mm USN
Caliber
20 mm (0.787 in)
Action
Gas-operated reloading
Rate of fire
1,000 rpm
Muzzle velocity
1,010 m/s (3,300 ft/s)
Data wikiwand.com
AIM-9 Sidewinder missile missile
The AIM-9 Sidewinder is a supersonic, heat-seeking, air-to-air missile carried by fighter aircraft. It has a high-explosive warhead and an active infrared guidance system. The Sidewinder was developed by the US Navy for fleet air defense and was adapted by the U.S. Air Force for fighter aircraft use. 
The missile's main components are an infrared homing guidance section, an active optical target detector, a high-explosive warhead, and a rocket motor.
The infrared guidance head enables the missile to home on target aircraft engine exhaust. An infrared unit costs less than other types of guidance systems, and can be used in day/night and electronic countermeasures conditions. The infrared seeker also permits the pilot to launch the missile, then leave the area or take evasive action while the missile guides itself to the target.
AIM-9L
AIM-9L
The AIM-9L added a more powerful solid-propellant rocket motor as well as tracking maneuvering ability. Improvements in heat sensor and control systems have provided the AIM-9L missile with an all-aspect attack capability and improved guidance characteristics. The L model was the first Sidewinder with the ability to attack from all angles, including head-on. An improved active optical fuze increased the missile's lethality and resistance to electronic countermeasures. A conical scan seeker increased seeker sensitivity and improved tracking stability. The AIM-9L is configured with an annular blast fragmentation warhead. Production and delivery of the AIM-9L began in 1976.
The AIM-9M missile utilizes a guidance control section with counter-countermeasures and improved maintainability and producibility. The AIM-9M is configured with an annular blast fragmentation warhead.
AIM-9M
AIM-9M
Primary Function
Air-to-air missile
Contractor
Naval Weapons Center
Power Plant
Hercules and Bermite Mk 36 Mod 71, 8 solid-propellant rocket motor
Thrust
Classified
Speed
Supersonic Mach 2.5
Range
10 to 18 miles depending on altitude
Length
9 feet, 5 inches (2.87 meters)
Diameter
5 inches (0.13 meters)
Finspan
2 feet, 3/4 inches (0.63 meters)
Warhead
Annular blast fragmentation warhead
25 lbs high explosive for AIM-9H
20.8 lbs high explosive for AIM-9L/M
Launch Weight
190 pounds (85.5 kilograms)
Guidance System
Solid-state, infrared homing system
Introduction Date
1956
Data fas.org
Image @taringa.net
CITEFA AS-25K
Image @

america.pink
The AS-25K is an Argentine air-to-surface missile (ASM) under development by the CITEFA (Instituto de Investigaciones Científicas y Técnicas de las FFAA – Armed Forces Scientific and Technical Research Institute) in two versions: air-sea and air-land. The main user is the COAN (COmando Aviación Naval – Naval Aviation Command) of the Argentine Navy.
It is propelled by a booster rocket and a solid propergol sustainer rocket, with a range of 25 km at a speed of Mach-2. Its total weight is less than 240 kg, and its warhead is composed by approximately 60 kg of Hexolite 50.50.
Variants
Four variants are being considered, differing basically in the guidance system:
AS-25K-RC – Radio Commanded
AS-25K-IR – Passive Infra-Red
AS-25K-LS – Laser
AS-25K-TV – Television
It has been reported that the IR version is already developed and ready for testing. Work is being done in a laser guidance system for the LS version. Research for the TV version is being commenced.
Relation with Martin Pescador
The AS-25K is a development of the Martin Pescador MP-1000 Argentine air-to-surface missile, currently in use also by the Argentine Navy. The main differences are:
Martin Pescador MP-1000
Enhanced speed and range (thanks to the booster acceleration)
Improved guidance on height/range and azimuth (the MP-1000 can only be guided in height/range)
Fire-and-forget guidance system (thanks to the IR seeker, the MP-1000 has only manual radioelectric guidance).
Greater range (estimated at 25 km, that's why the "25K" missile denomination).
Technical specifications
Type: Anti-ship missile
Manufacturer: CITEFA
Diameter: ? cm (? in)
Length: ? m (? in)
Wingspan: ? cm (? in)
Standard warhead weight: 60 kg (132.3 lb)
Warhead type: ?
Maximum range: 25 km (15.55 mi)
Data wikiwand.com
Dardo pump 2c
Image @subefotos.comImage @subefotos.comData @taringa.net
Data taringa.net
Updated Feb 17, 2017