Admiral Gorshkov Class frigates (project 22350) are being built by Severnaya Verf OJSC for the Russian Navy. The new multirole, long-range frigates can be deployed in anti-submarine warfare and escort operations.
In October 2005 the Russian MoD placed an order with Severnaya Verf for the construction of the lead frigate, Admiral Sergei Gorshkov. It was named after the commander-in-chief of the Soviet Navy. The frigate is the first long-range maritime surface vessel being built for the Russian Navy in 15 years.
Project 22350 Admiral Gorshkov-class lead frigate
Admiral Gorshkov-class lead frigate –

 Image – 

tass.com
The Project 22350 Admiral Gorshkov-class lead frigate will undergo new trials in the Gulf of Finland in mid-May and enter service in the Russian Navy by the yearend, United Shipbuilding Corporation President Alexey Rakhmanov said on Wednesday.
"The Admiral Gorshkov lead frigate will set out for planned running trials in mid-May. The Navy will receive the Project 22350 newest lead frigate on time – at the end of this year," Rakhmanov said.
The frigate that has been under construction at Severnaya Verf (Northern Shipyard) in St. Petersburg in northwest Russia, sailed for its first sea trials in the Gulf of Finland on November 18, 2014. After that, the shipyard's spokesman said the lead vessel would undergo a new stage of trials in late January 2015.
Some media earlier reported about faults in the Admiral Gorshkov's power unit. However, the shipyard rejected the media reports, saying there were "no problems" with the power unit and "the ship performed well at the trials."
At the same time, a tender was opened on the state purchases website on Tuesday for fulfilling works to rebuild the gas turbine engine for order 921 of Project 22350 (the Admiral Gorshkov frigate) on the premises of the Saturn research and production association acting as the sole supplier.
Severnaya Verf is the client of these works estimated at 135 million rubles ($2.7 million) and scheduled to be finished by December 2016.
"The purchase cost indicated in the materials includes a set of various works as part of the enterprise's operational activity," the United Shipbuilding Corporation president said, commenting on the information posted on the state purchases website. Source tass.com
Admiral Gorshkov-class lead frigate
The keel of the Admiral Sergei Gorshkov, the first of the two frigates being built, was laid in Severnaya Verf Shipyard in St Petersburg in February 2006. It was floated out of the launch dock in October 2010.
Admiral Kasatonov, the second Project 22350 frigate
Admiral Kasatonov – Image – greenstylo.blogspot.com
The Admiral Kasatonov, the second Project 22350 frigate, was set afloat at the Northern Wharf in Russian northern capital St. Petersburg on Friday. Lead ship of the project, the Admiral Gorshkov, is already at sea trials. The Navy plans to take it into service in 2015, the chief commander said earlier on Friday.
Project 22350 frigates will be brought into service of the Northern Fleet which faces tasks in the Arctic Region, moreover, these warships should provide for Russian military presence in other areas of the world ocean, Chirkov added. "Therefore, the class of ships destined for action in far sea areas should be upgraded," the admiral said.
Project 22350 frigates displace 4.5 thousand tons and can speed at 29 knots (53.7 kph). In particular, these vessels are armed with 16 Onyx and Kalibr missiles as well as the Poliment-Redut air defense missile system. Source greenstylo.blogspot.com
Admiral Kasatonov – Image – greenstylo.blogspot.com
The vessel is scheduled to join the Russian Navy in November 2013. Construction of the second frigate, Admiral Kasatonov, began in November 2009. The vessel is expected to be delivered by 2014. The keel for the third ship, Admiral Golovko, was laid in February 2012.
The Russian Navy intends to build 20 vessels of the Gorshkov Class. Six frigates are to be delivered by 2020. The new ships will serve the Baltic, Black Sea, Northern and Pacific fleets.
Source wikiwand.com
Russian Navy to receive two Project 22350 frigates by 2020:

Here
Russian Navy to Receive Six Project 22350 Frigates of Gorshkov Class by 2025:

Here
Design of the Russian Navy's frigates
In July 2003 Russian Naval Command approved the basic design of the frigate. It was developed by FSUE Severnoye PKB (Northern Design and Development Bureau) in St Petersburg. The design is based on the Talwar / Krivak IV Class frigate developed by Russia for India and incorporates stealth technology.
Project 11356 Admiral Grigorovich Class frigates/Indian Navy's Talwar Class frigates:

Details
Gorshkov Class frigates are designed to operate in multi-threat environments and are equipped with long-range surface-to-surface and surface-to-air missiles, which can attack multiple targets simultaneously.
The frigates have an overall length of 130m, a beam of 16m and a draft of 16m. They have operational ranges of more than 4,000 miles and a displacement of 4,500t. The maximum speed of the vessels is 30kt. They can accommodate about 200 crew members.
Countermeasures / sensor technology
Gorshkov Class frigates are fitted with 3D air search radars, Puma fire control radars and sonar suites with hull-mounted LF sonar and LF VDS sonar. They are also equipped with Garpun-BAL SSM targeting and SAM control systems.
Gorshkov Class frigate Bridge 
Furke 4 3D radar

Furke-4 volume search radar which is uniquely mounted on top of the main radar itself. This prevents interference and allows both radars to have unobstructed search capability.  Furke-4 is placed at the very top so it is in a good position to look further beyond the horizon limit with no ship clutter to worry, most likely it would do a combined Air/Surface search capability , handling of targets to Poliment or to firecontrol system of Antiship missile , GUNS , CIWS SAM etc …and in secondary role it would do target guidance if required. Having different band for radar would have it own advantage too and Furke/Poliment would compliment each other. Source keypublishing.com
5P-10E Radar Control System
5P-10E General-Purpose Radar Control System (5P-10E RCS) is designated for optimal fire control of 25–305-mm naval artillery systems. The radar control system can perform the following tasks:
"automatic reception of target designation data from shipborne means, acquisition and tracking of up to 4 targets;
automatic missed firing measurement and firing correction, also using antenna post electronic and optical means;
аutomated RCS efficiency control with faults indication and generation of recommendations on fault repair;
naval artillery system combat crew training using simulated targets under simulated interference conditions with a possibility to engage targets with practice missiles;
аutonomous air, sea and coastal target detection (in standby mode) in 360° surveillance and sector scanning modes;
intercept of the missile taking off from the tracked target.
Main specifications
Tracking mode operation range:
by distance
up to 60 km
by elevation
up to 85 deg.
by azimuth
±200 degrees
360° surveillance mode operation range:
by distance
not less than 30 km
by elevation
up to 35 deg.
by azimuth
360 deg.
Response time:
from the beginning of automatic tracking till fire readiness
not more than 3 s
when transferring fire to a 6°x3° sector
not more than 1 s
Combat crew
2 persons
Weight:
total
not more than 3700 kg
including antenna post
not more than 2100 kg
Special features
·         Optimal solution for all types of artillery fire control systems modernization and cutting edge equipping of all classes of ships under construction.
·         Simultaneous gunfire control of several naval guns against one or two air, sea or coastal targets in automated mode.
·         Automatic adaptation to interference protection and high-noise immunity.
Source concern-agat.ru
Monolit 34K1 radar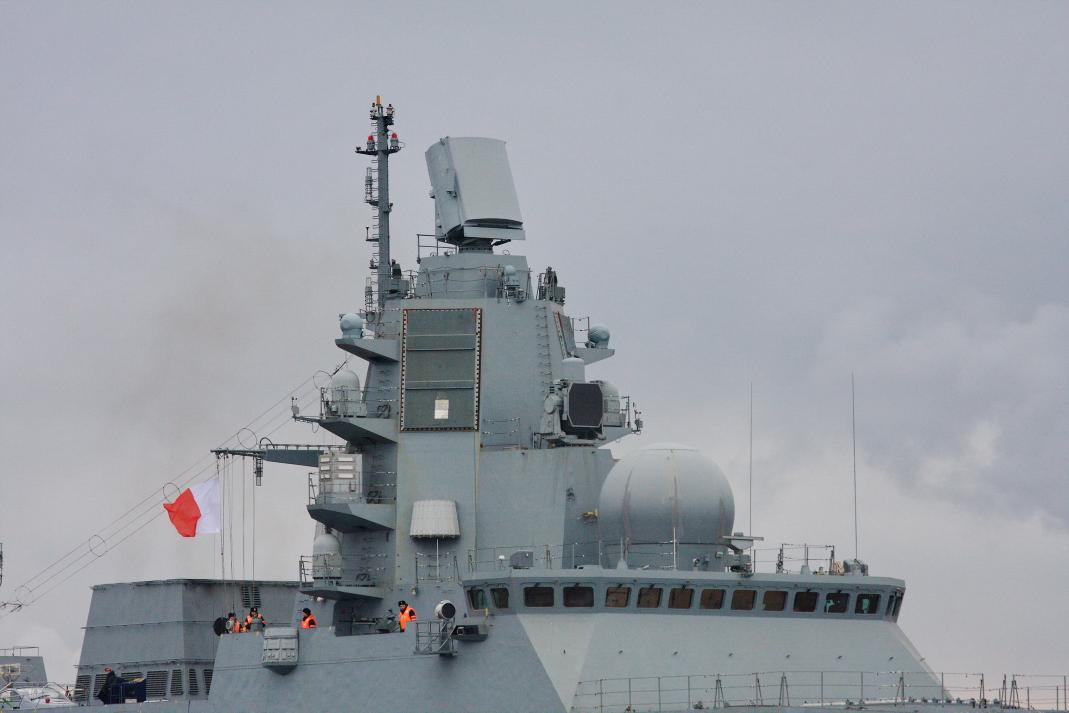 The Dome holds the Monolit 34K1 radar is used for Anti-Ship missile guidance and surface search
Poliment 5P-20K multi-function S-band AESA radar
Main mast – It has a 4 face Poliment 5P-20K multi-function S-band AESA radar which can search and track aerial and surface targets as well as provide guidance to the SAMs.
| General data: |   |
| --- | --- |
| Type: Radar | Altitude Max: 30480 m |
| Range Max: 148.2 km | Altitude Min: 0 m |
| Range Min: 0.2 km | Generation: Early 2010s |
Properties: Identification Friend or Foe (IFF) [Side Info], Non-Coperative Target Recognition (NCTR) – Jet Engine Modulation [Class Info], Continous Tracking Capability [Phased Array Radar], Moving Target Indicator (MTI), Pulse Doppler Radar (Full LDSD Capability), Active Electronically Scanned Array (AESA)
Sensors / EW:
3P96-2 [Poliment-Redoute] – (SA-N-21 FCR, AESA) Radar
Role: Radar, FCR, Surface-to-Air & Surface-to-Surface, Medium-Range
Max Range: 148.2 km
Source cmano-db.com
Zarya M bow mounted sonar
Submarine detection capability is provided by the Zarya M bow mounted and Vinyekta towed array sonars along with the embarked Ka-27 ASW helicopter 
| General data: |   |
| --- | --- |
| Type: Hull Sonar, Active/Passive | Altitude Max: 0 m |
| Range Max: 9.3 km | Altitude Min: 0 m |
| Range Min: 0 km | Generation: Early 2010s |
Sensors / EW:
Bull Nose [MGK-335EM-03 Zarya-3] – Hull Sonar, Active/Passive
Role: Hull Sonar, Active/Passive Search & Track
Max Range: 9.3 km
Source cmano-db.com
Pal-N navigation radars
3 x  Pal-N navigation radars Designed to carry out surface surveillance, ensure navigation safety and supply radar information to other shipborne systems.  The radar operates in a circular scan mode including a covert emission mode. It detects surface targets, automatically locks on to them and tracks them, generates dynamic parameters of targets, automatically resolves collision avoidance problems, generates recommendations for a tactical maneuver, supplies information to associated shipborne systems, and records the gathered information. Maximum target detection range, km: cruiser, destroyer at least 40, boat 20, buoy 8 to 10, Minimum target detection range 25 m, Single scan time, 3 to 6 sec, Resolution: direction, deg not worse than 1, range not worse than 25 m, MRSE: bearing, mil 0.8, range 15m, Maximum number of targets tracked simultaneously 50, Weight, kg, max 300. Source warfare.be
2 × target illuminators aft superstructure for Palash CIWS
Communications: Vigstar Centaurus-NM
Electro-Optical Systems: 2 × MTK-201M and 2 × 5P-520
MTK-201M Electro-Optical Systems
Image – foto-i-mir.ru
The system is designed for day and night viewing, detection and identification of air, surface and coastal targets, capture and automatic tracking of targets, determine the angular coordinates, distance and speed of tracked targets.
Image – foto-i-mir.ruImage – foto-i-mir.ru
The complex includes:
– gyro-stabilized platform with channels:
• Digital television cameras in black and white and color images with progressive scan
• thermal imaging channel 8-12 mm
• laser rangefinder, laser rangefinder safe
– Remote control units improve the signal (video processor) and the block automatic tracking of targets
This complex is part of the on-board equipment of a new generation of Russian corvettes.
On the project 20380 corvettes set modification multifunctional television complex of ITC-201M2.2.
Image – foto-i-mir.ru
The structure of "Bark-0-MGKUSO" includes:
1. Optical modules Block stabilized (BOMS), which establishes:
• Stability and Control;
• thermal imaging channel [TPVK);
• TV channel (TCE):
– two TCE black and white image
– TEC color images
• dual-wavelength laser rangefinder;
• devices cleaning of protective hatches;
• a channel alignment
2. Electronic module (ME):
• block the electronic stabilization system;
• the control unit;
• Power Supply
Branch to develop optoelectronic systems of marine and terrestrial purpose of "Production Association" Ural Optical and Mechanical Plant "under the leadership of NI Sheynikova conducted the development and testing of innovative systems sector review for surface ships WF. Creating a product MTK-201M-C1 significantly increase the target detection range and improve the defenses of the ship.
Source foto-i-mir.ru
5P-520 Electro-Optical System
SP-520 Electro-Optical Naval Artillery Fire Control System (SP-520 CS) is designated for target search and tracking, both autonomous and based on target designation, naval artillery gun and MLRS salvo fire control.
Main specifications

SP-520M-2 EOCS(standard configuration, configuration 4)
EORU type
UV-450
Configuration of EORU channels:
optical (visual) field of view:
wide (WFV)
19 deg.
narrow (NFV)
4.45 deg.
zoom (WFV)
3x
zoom (NFV)
12x
TV-day field of view:
WFV
5×4 deg.
NFV
1°27'×1°05' deg.
TV-night
field of view
6.0×4.5 deg.
laser rangefinder
available
emission wavelength
1,06 µm
impulse energy
32 mJ
measurement range
60–20 000 m
accuracy of measurement (root-mean-square error)
5 m
EORU line-of-sight stabilization
yes
EORU homing range:
by azimuth
±170 deg.
by elevation
–15 ÷ +85 deg.
Accuracy of measurement of angular coordinates (RMSE)
0.5 angular mil
Power supply
three-phase, 380 V 50 Hz or
three-phase, 220 V 50 Hz
Power consumption
not more than 2 kW
Weight (depending on periscope line-of-sight hight):
total
200–220 kg
electronic and optical unit
180–200 kg
Source concern-agat.ru
Combat system: Sigma/Sigma 22350
EW Suite: Prosvet-M
Countermeasures:
2 × PU KT-308
8 × PU KT-216
Special Russian complex interference CT-308

 The complex jamming CT-308 is designed to protect ships at least some class of all defense lines against various types of missiles with homing radar, electro-optical and combined type. According to its features and the introduction of protection is not inferior zabugornom analogues, and certain features and superior to them. Certainly, the data interfering systems, when installed on the ships of the Russian Navy, only enhance the vitality and sustainability of Russian ships. The very formulation of interference, even for experienced sailors is ecstasy and excitement that then read about ordinary people. Surface ship Kuta typical cluster of fireworks. But in fact this is the "decoys" that produces system to protect against modern weapons of the enemy. The basis of such complexes is the zenith armament ship. EW is based on the destabilization of the information field of the signal of the enemy, using for this interference, which surpass those of the protected surface ship. One of the important problems in the performance of tasks by jamming make complex clutter. They are placed without the introduction of active energy sources. (Translated by google) 

The composition of CT-308:
— rocket launchers PU-SC or starting PU RMS. Carrier-based variant — two 6-barrel unit CK / CK-MH. Suspended option — 12-barrel unit. Ammunition — rockets combined type UPC-51 missiles masking type PZM-51. Ship depends on the class number of launchers of the complex, in the main complex goes 2-4 in PU;
— 10-chargers launchers PU-1716 mortar type. Ammunition — SB-50, COM-50 interference optical type SR-50 radar interference type and SMZ-50 Type masking noise. Ship depends on the class number of launchers of the complex, in the main complex data sets of up to 10 MPs;
— ammo ammunition launchers;
— control panel, which is located at the command post;
— hardware to calculate the parameter of shooting;
— instrument units for inductive input characteristics of the fuses for launching projectiles;
— Isolator unit that distributes power in the complex.
The entire interior of the electric CT-308 created by modern components. The equipment provides the necessary interface to CICS ship, ensures reliable operation of the entire complex at least some weather and climate in all criteria. Shooting and management can be carried out off-line on their own devices, and in the general mode of the automatic SU EW ship.
The time required for loading PU complex CT-308 — a bit less than 15 minutes. Ready for use with full operational capability — up to 10 seconds. Transfer to a full BG from traveling — 90 seconds. Ammunition interference are warhead cassette. In BC a string of cassettes are placed, and can be different gear cassettes. Operation of the "first cassette" of ammunition (released from the mortar launchers) — 30 meters. Rate of Fire — 200 rounds / min. Operation of the "first cassette" of ammunition (released from the reactive PU) — 30-1000 meters. These fuses in ammunition injected immediately before application of the induction method. Rate of fire 400 rounds / min. The complex is served by only one person. (Translated by google) Source survincity.com
8 × PU KT-216
AZ-SO-50/AZ-SOM-50 rounds
These rockets are designed to protect small, medium and large displacement ships against guided weapons at close ranges by setting up distracting decoy targets. The rockets are launched from the KT-216 launcher of the PK-10 shipboard system.
The following three types of the caliber rockets are developed and series produced:
SR-50 radar jamming rocket;
SO-50 optronic jamming rocket;
SK-50 combined jamming rocket.
Basic characteristics
SR-50
SO-50
SOM-50
Caliber, mm
120
120
120
Length, mm
1,226
1,226
1,226
Weight, kg
– rocket
25.5
25
25
– payload
11
7.3
9.1
Payload type
chaff
IR, laser
chaff, IR, laser
Operating temperature range, ° C
from -40 to +50
Data rbs.ru
Weapons and armaments of the multirole long-range frigates
The Admiral Gorshkov Class vessels are equipped with a new 130mm gun mount, a 30mm close-in weapon system (CIWS) gun and eight SS-NX-26 Yakhont anti-ship cruise missiles. Yakhont missiles can be fired against a group of naval surface vessels and single vessels.
Other weapon systems include a Medvedka-2 ASW (anti-submarine warfare) system and a Hurricane medium-range surface-to-air defence missile system. The vessels can also be fitted with 21in torpedo tubes to carry torpedoes.
Gorshkov is the only Russian combat ship to be equipped with BrahMos missiles. BrahMos is a supersonic cruise missile developed by the BrahMos Aerospace, a collaboration between Russia and India.
The missile has a range of 180 miles (290km) and is capable of carrying a conventional warhead of up to 660lb.
Ground and sea targets can be successfully hit by the missile while travelling at an altitude as low as ten metres (30ft) and at a speed of Mach 2.8, three times faster than the US-made subsonic Tomahawk cruise missile. The Russian Navy plans to equip the ship with six BrahMos missiles.
Armament:     
1 × 130mm Amethyst/Arsenal A-192M naval gun with rate of fire of 45 rds per minute [7]
16 (2 × 8) UKSK VLS cells fitted with P-800 Oniks (SS-N-26) and/or Kalibr missile system (SS-N-27)
32 (4 × 8) Redut VLS cells housing 9M96, 9M96M, 9M96D/9M96DM(M2) family of missiles and/or quad-packed 9M100 short range missiles
2 × Palash CIWS
2 × 4 330mm torpedo tubes for Paket-NK anti-torpedo/anti-submarine torpedoes
2 × 14.5mm MTPU pedestal machine guns
Source wikiwand.com
A-192M -130-mm naval gun mount
Features gun mount A-192m: – a new generation of artillery systems, unified, lightweight, modular design; – gun mounts odnoorudiynaya tower, fully automated, consisting of two modules: the firing rotating module attached to the equalized-ring-ship; Module for placement of electrical and hydraulic equipment and electro-optical guidance system equipment is placed in aggregate ship compartment; – the barrel-monoblock with muzzle brake, horizontal wedges, hydraulic rammer, hydropneumatic recoil device and pneumatic recuperator; – cooling liquid barrel produced in between firing pumping water through the bore; – ammunition for automatic feeding is vertical drums, arranged in a rotating AU firing module. Make-up drum is made in between the firing of the semi-automatic system cabling mechanical bark-feeding (CPM) of artpogreba;
Image – bastion-opk.ru
– Automation, control and monitoring (Sauk) UE provides synchronization of work feeders shots with the work of artillery machine, control the initial state mechanisms and AC systems before shooting and diagnostics in case of failure during the shooting; – guidance artillery systems, and fire control, select the type of shot carried out remotely, in automatic mode from the radar 5P10 control system or from a remote optoelectronic module (OEM) based on the GOES-140 gyro-stabilized system – used ammunition – unitary ballistic explosive and anti-aircraft missiles (ALS), used in the AK-130 and high-precision artillery shells unconventional kind of firing on shore and surface targets; – AU can be easily adapted to the system of multi-purpose weapons of surface ships with a displacement of 1500 tons or more. The number of personnel during combat service – 3 people. The persistence of the barrel – 2500 shots.
Image – bastion-opk.ru
Research Engineering Institute (THEM), belongs to the group "Tehmash", is developing artillery shells with intelligent, programmable fuses for naval artillery, which will bring the enemy ship down with one shot, he said in July 2015 Head Valeriy Lebedev Institute office. He noted that the use of these shots will significantly increase the effectiveness of firing on marine, coastal and air targets, thus reducing the consumption of ammunition at the goal defeat. "The global trend that we follow – is the creation of intelligent fuses that allow a projectile blasting in optimal time and spatial coordinates, "- said Lebedev. According to him, for example, in contact with such a projectile into the vehicle will first be overcome by the thickness of his body, then carried the projectile blasting with optimal decelera
Image – bastion-opk.ru
CHARACTERISTICS
Complex Developer Design "Amethyst" Office
Developer gun mount KB "Arsenal"
Caliber, mm 130
Number of trunks 1
Type loader unitary, automatic
trunk Type monoblock shutter type horizontal wedge
firing range, km:
– for sea targets up to 23
– air targets up to 18
Combat rate of fire, rds. / min. OK. 30
RCS coverage area, 60 km to the reaction time, with
– for the purpose of air ≤ 5
 – on the topside (Coast) targets 10-15
transfer time to fire another RCC in the stream, with ≤ 1
continuous queue length based SAP, rds 20
ammunition for the installation, shots 22 – 60 (Number of ready to fire ammunition is determined by the capacity of the ship artpogreba) ammunition types
 – high-explosive with HC;
– zenith with PB or DVM;
 – practical
projectile Weight 33.4
cartridge Weight 52 8
vertical aiming angles -15 ° + 80 °
 in the horizontal guidance angle 170 °
Weight, kg 24000-25000 (without ammunition)
Battle calculation, people. 3
Power on the network 3F 380 V 50 Hz, up to 150 kVA
Translated by google – Source bastion-opk.ru
A-192-5P-10E Artillery System
A-192-5P-10E Naval General-Purpose Lightweight Artillery System (A-192-5P-10E AS) is designated for large and medium displacement ships for the purpose of self-defence against air attack as well as sea and coastal target engagement.
А-192-5P-10E in basic configuration includes:
130 mm A-192E gun mount with Automated Firing System (AFS) supplied from the magazine;
5P-10E radar control system;
artillery ammunition, 130 mm calibre.
in extended configuration:
small caliber anti-aircraft naval artillery gun and unguided rocket launcher with the corresponding ammunition;
optical-electronic sighting systems.
Main specifications
Area of engagement (basic configuration):
against surface (coastal) target
up to 23 km
against air target
up to 18 km
Gun mount ammunition
22 cartridges
Rate of fire
up to 30 shots/min
Number of shots fired in a burst mode
up to 45 shots*
Types of shells:
high-explosive fragmentation shell with shockwave

anti-aircraft shell with proximity fuse or mechanical fuse

practice shell

Radar control system coverage
up to 60 km
Response time:
against air target
≤5 s
against surface (coastal target)
10–15 s
in flow
≤1 s
Mains power consumption three-phase, 380 V, 50 Hz
up to 150 kW
Combat crew
2 persons
Special features
·         Improved combat efficiency, combat-readiness and continuous firing at targets, capabilities of engagement in warfare with a group of attacking antiship missiles.
·         Sustained quality, high survivability, reliability, flexible operation in combat and everyday applications.
·         Reduced weight and dimension parameters of equipment and hardware ensuring installation of naval artillery system on small-displacement ships.
Source concern-agat.ru
16 (2 × 8) UKSK VLS cells fitted with P-800 Oniks (SS-N-26) and/or Kalibr missile system (SS-N-27)
This new class of Russian frigates incorporate best weapons and sensors that the Russian industry can produce.
The Admiral Gorshkov class is equipped with a 16-cell Vertical Launch System (VLS) for a mix of Kalibr-NK land attack cruise missiles (range 2 500 km), P-800 Oniks anti-ship missiles (range 300-500 km) and 91RTE2 anti-submarine missiles (missile drops torpedo 50 km away). Source military-today.com
2 × 8 UKSK VLS cells just in front of bridge fitted with P-800 Oniks (SS-N-26) and/or Kalibr missile system (SS-N-27) and behind main gun 32 (4 × 8) Redut VLS cells housing 9M96, 9M96M, 9M96D/9M96DM(M2) family of missiles and/or quad-packed 9M100 short range missiles.
P-800 Oniks (SS-N-26) anti-ship missile
The P-800 Oniks is one of the most deadly anti-ship missiles today. Its export version is know and Yakhont. Western designation of this missile is SS-N-26 Strobile. Despite this, there is little information to be had about this powerful weapon.
Development of the P-800 began in 1983. It became operational in the early 2000s. So far, it has been mostly used on land or in submarines, although some sources state that it is also mounted on certain naval vessels or airplanes as well.
The P-800 has an effective guidance system. It is fire-and-forget, which basically means that the launch platform can run to safety after launching the missile. At the beginning of its flight, the P-800 uses satellite guidance, and towards the end, it actively tracks its target with radar. This guidance works so well that the P-800 has a Circular Error Probable (CEP) of just 1.5 meters.
The P-800 has two different ways to approach its targets. It can fly just above the sea the whole way, which decreases its range to 120 kilometers but reduces its radar visibility. Or, it can start out flying high and dive towards the target. This method gives the P-800 a maximum range of 300 km. Some sources also state that the P-800 Oniks, the non-export version, has a range of 600 km. However, there is no solid evidence for this.
The P-800 uses a powerful two-stage propulsion system. For the initial flight stage it uses a solid-fuel rocket booster, which the airflow ejects after it burns out. For sustained supersonic cruising it uses liquid-fuel ramjet. This propulsion system works very well. In fact, its maximum of speed of Mach 2.5 (3 062 km/h) may travel too fast for Close-In Weapon Systems (CIWS).
The P-800 has a very high chance of hitting its target. Its supersonic speed gives it a good chance of avoiding CIWS and other shipboard guns. Also, it has excellent resistance to electronic counter-measures, which further improves its survivability.
This anti-ship cruise missile carries a powerful warhead. Weighing between 200 and 250 kilograms, this warhead could wreak enormous damage upon standard ships. In addition, it is believed that the P-800 can use either conventional or nuclear warheads, with the latter probably intended for US carrier groups in the case of a major war. Reportedly, this missile can also be used against land targets.
The P-800 can be used in conditions up to Sea State 7.
| | |
| --- | --- |
| Country of origin | Russia |
| Entered service | 2002 |
| Missile length | 8.6 m |
| Missile diameter | 0.67 m |
| Fin span | 1.7 m |
| Missile launch weight | 3 100 kg |
| Warhead weight | 200 – 250 kg |
| Warhead type | Nuclear or conventional |
| Range of fire | up to 300 km |
| CEP | ~ 1.5 m |
Source military-today.com
3M54T (SS-N-27) anti-ship missile
3M54T is deployed on surface ships equipped with VLS launchers and thrust vectoring boosters. The performances are the same as the 3M54.
Its basic length is 8.22 m (27.0 ft.), with a 200 kg (440 lb.) warhead. The range is 440–660 km (270–410 mi). The missile is a sea-skimmer with supersonic terminal speed (Mach 2.9) and a flight altitude of 4.6 metres (15 ft.) at its final stage.
The Kalibr 3M-54 (NATO codename – «Sizzler», SS-N-30A) is a long-range, low-flying cruise missile capable of carrying conventional or nuclear warheads. It has land-attack, anti-ship and anti-submarine variants. The missile has a second stage that performs a supersonic sprint in the terminal approach to the target, reducing the time that target's defense systems have to react.
The Kalibr is designed to share common parts between the surface and submarine-launched variants but each missile consists of different components, for example, the booster. The missile can be launched from a surface ship with a Vertical Launched System (VLS) and a booster with thrust vectoring capability. The missile launched from a submarine torpedo tube can use a conventional booster instead. The air launched version is held in a container to be dropped after the missile is fired. During its terminal phase, the missile locates its target through a mix of coordinates and onboard image recognition, essentially matching an uploaded image of the target to what the missile sees in front of it. If all goes to plan, the missile's 1,000-pound payload of high-explosive is then guided straight to the target for a violent impact.
3M14T  land attack missile
3M14T is the inertial guidance surface ship-launched land attack variant with VLS launched missile and thrust vectoring booster. The basic length is 8.9 m (29 ft.); its warhead weight and other performance are the same as the 3M14K. 26 3M14T cruise missiles of this variant were fired from four surface ships in the Caspian Sea on 7 October 2015. Source strategic-culture.org
91RE2 anti-submarine torpedo
91RE2 anti-submarine torpedo
The 91RE2 is a surface-launched, rocket-assisted, anti-submarine torpedo similar to ASROC: length of 6.5 m, weight is 1300 kg, range is 40 km, warhead is 76 kg, maximum speed is Mach 2.0. Source 
defenseupdates.blogspot.com
Anti-submarine missile 91RE2 is intended to arm surface ships equipped with standardized launchers 3C-14E or 3C-14PE. 91RE2 run at all speeds ship carrier. Booster rocket 91RE2 less powerful than rocket 91RE1, it provides output of ship missiles launcher and climb. In the design point of the second stage separation is carried out, which splashed down on a parachute, and then searches for and guidance on underwater target (see diagram application). The firing range – 40 km. Prelaunch time is 10 seconds.
Prelaunch missile 91RE2 formation and entering the flight tasks performed universal control system (CS) missile complex 3R-14H. It is an automated system that operates in real time as part of the combat information control system (CICS) ship carrier. The ships 11356 installed CICS "requirement-M", developed NPF "Meridian".  
CICS "requirement-M" is an open, distributed adaptive computing system. Pairing SU missile system with CICS performed on the digital channel LAN using special devices interface. According to the targeting and commands from CICS "requirement-M" and navigating complex ship carrier SU missile system generates data for firing controls prelaunch preparation and launch missiles of various purposes from the complex, as well as procedural checks of complex systems and missiles. Information on the status of the missile system, ammunition available, its use plans, control commands transmitted in graphical and tabular form on the workstations (AWS) CICS "requirement-M." It provides centralized management of all weapons systems ship with a view to their optimal use in solving various combat missions, including the management of the ship fighting against the use of submarines and anti-submarine weapons. All appliances in the composition SU missile system (except the remote control missiles) – bespultovye, maintenance-free, in the spray – and waterproof performance. Equipment fire – and explosion-proof, requires no cooling during operation. Source tonnel-ufo.ru
APR-3ME or small-sized homing torpedo
APR-3ME or small-sized homing torpedo
APR-3ME or small-sized homing torpedo MPT-1UME (weight-300 kg, a diameter of 324 mm, length 3000 mm, weight-60kg warhead). APR-3ME and MPT-1UME belong to the third generation anti-submarine weapons, and provide an independent search and detection of underwater targets in silent mode, speedy rapprochement with it and defeat it before executing evasive maneuvers and counter.
Source tonnel-ufo.ru
–
3M-54E
3M-54E1
3M-14E
91RE1
91RE2
Length [m]
8.22
6.2
6.2
8.0
6.5
Diameter [m]
0.533
0.533
0.533
0.533
0.533
Launch Weight [kg]
2,300
1,780
1,780
2,050
1,300
Maximum Range [km]
220
300
300
50
40
Speed [Mach]
Depends on flight mode 
Subsonic Mode: Mach 0.6 – 0.8, Supersonic Mode: Mach 2.9
0.6 – 0.8 
Terminal Stage Speed for the 3M-54E1
0.6 – 0.8 
Terminal Stage Speed for the 3M-14E
2.5 
Ballistic Stage Speed for the 91RE1
2.0 
Ballistic Stage Speed for the 91RE2
Warhead Weight [kg]
200
400
400
76
76
Control System
Inertial + Active Radar Homing
Inertial + Active Radar Homing
Inertial
Inertial
Inertial
Flight Path
Low-Flying
Low-Flying
Ballistic
Ballistic
Ballistic
Range of Kalibr cruise missile
32 (4 × 8) Redut VLS cells housing 9M96, 9M96M, 9M96D/9M96DM(M2) family of missiles and/or quad-packed 9M100 short range missiles
Redut VLS for 16 9M96E 
Redut VLS for 16 9M96E (120 km range) SAMs are located forward of main gun
Combat power of the modernized craft greatly enhanced by introducing into the arms of a new universal missile complex "Caliber-NK" (instead of anti-ship complex "Uran") with a uniform 8-cell launcher for several types of missiles – anti-shooting and coastal targets. Anti-aircraft weaponry corvette enhanced anti-aircraft missile system, 9M96 missiles (supplied from 16 missiles). Source globalsecurity.org
9M96 anti-aircraft missile  
The S-400 Triumph also launches 9M96E and 9M96E2 medium range ground-to-air missiles. Designed for direct impact, the missiles can strike fast moving targets such as fighter aircraft with a high hit probability. The maximum range of the 9M96 missile is 120km.
9M96E and 9M96E2 missiles (Fakel in Milparade.ru)
 
9M96E
9M96E2
Target engagement envelope, km:
Range:
minimum
maximum
1
40
1
120
Altitude:
minimum
maximum
0.005
20
0.005
30
Weight, kg:
missile
warhead
container with four missiles
333
24
2,300
420
24
2,700
Average velocity, m/s
750
1,000
First shot hit probability:
piloted target
unpiloted target
target═s payload
0.9
0.8
0.7
0.9
0.8
0.7
Source globalsecurity.org
9M100 short range missiles
2 × Palash CIWS
AO-18K (6K30GSh) 30-mm six-barrel antiaircraft automatic gun
TECHNICAL DATA
Parameter
Value
Caliber, mm
30
Rate of fire, rpm
4500…5000
Muzzle velocity, m/s
890
Weight of automatic gun, kg
230
Recoil force, kN
70
Length, mm
2600
Ammunition allowance, cartridges
500
Type of cartridges
fragmentation high-explosive

incendiary;

fragmentation high-explosive

incendiary tracer

Cartridge charge ignition method
electric
Freed of automatic gun with cartridges
linkless
Weight of cartridge, kg
0.83
DC supply voltage, V
27
Compressed air pressure feed to pneumatic starter of automatic gun, kgf/cm2
Cooling of barrel cluster
Transpiration type
Operating conditions, 0С
-40…+50
Source tulamash.ru
2 × 4 330mm torpedo tubes for Paket-NK anti-torpedo/anti-submarine torpedoes
The Paket-E/NK small-sized anti-submarine system with anti-torpedo is designed:
– to engage (destroy) submarines in ship's close-in zone (when carrying out submarine warfare tasks)
– to destroy torpedoes, attacking the ship (when carrying out anti-torpedo defence tasks)
The complete set of the Paket-E/NK comprises:
– Paket-E control system
– rotating or fixed launching units
– Paket-AE specialized target designation sonar
– combat modules mounted on the launchin unit
Depending on missions assigned to the surface ship, its launching units can house combat modules armed with different combinations of small-sized heat-seeking torpedoes and/or anti-torpedoes, both in nomenclature and in quantity.
The small-sized heat-seeking torpedo is designed to engage enemy submarines, and the anti-torpedo is designed to intercept and destroy attacking torpedoes. Both are housed in unified transport-launch containers.
The Paket-E/NK system can operate independently or be integrated into ship's antisubmarine/anti-torpedo defence system, solving a number of tasks in fully automatic or automated modes, such as:
– generation of target designation data for small-sized heat-seeking torpedoes, based on data, provided by ship's sonar systems and posts
– detection and classification of attacking torpedoes, determination of their movement parameters, and generation of target designation data for anti-torpedoes
– pre-launch preparation of combat modules, generation and transfer of firing data to them, launching of anti-torpedoes and/or small-sized heat-seeking torpedoes
– launching units control
The Paket-E/NK system is a radically new weapon system, allowing surface ships to solve ASW/anti-torpedo defence tasks with high effectiveness, and to increase substantially their survivability.
The delivery set of the Paket-E/NK small-sized antisubmarine/anti-torpedo system is customer-defined.
An automated testing and trouble-shooting system can be delivered for combat modules operational support. Source ktrv.ru
2 × 14.5mm MTPU pedestal machine guns
Technical Characteristics
Weapon
machine-gun KPVT
Machine-gun calibre, mm
14.5
Rate of fire, shot/min, not less
450
Mass of a mount with a machine-gun (without ammunition and SPT&A),kg
350
Overall dimensions (with the height 
of foundation from the deck 100 mm), mm: 
length
width
height
2800
865
1500-1800
Angle of elevation guidance, degrees
-15 to +60
Angle of traverse guidance, degrees
±180
Direction of a machine-gun feed
right
Method of guidance
manual
Crew, persons
1
Propulsion and power of the Admiral Gorshkov Class vessels
The frigates are equipped with combined gas turbine and gas turbine (COGAG) propulsion systems. The two cruise gas turbines and two boost gas turbines will be connected through two shafts.
Saturn M90FR gas turbine engine
2 x M90FR gas turbines designed and built by Zorya-Mashproekt in Ukraine
Saturn M90FR gas turbine engine with a maximum power of 27,500 hp, the M55R power plant includes the 5,200-hp 10D49 diesel engine from the Kolomna Machinebuilding Plant and the RO55R reduction gearbox. Source navyrecognition.com
10D49 diesel engine
2 x 10D49 diesel engines 
16ЧН26/26 и 16ГДЧН26/26 (V-version)
Technical characteristics
Designation of diesel (engine/diesel-generator including dieselengine16ЧН26/26)
Application
Power range,KW (h p)
Engine speed,rpm
Weight of diesel-generator, kg
Dimensions, mm
L
В
Н
10Д49
as main marine engine for diesel-gas turbine aggregate ДГТА (55МР) for driving fixed-pitch propeller via reduction gear
3825 (5200)
1000
24020
5220
2300
3460
* – Weight of diesel engine
Technical data kolomnadiesel.com
The COGAG propulsion is more efficient than combined diesel and gas (CODAG) and combined diesel or gas (CODOG) propulsion systems. The COGAG system delivers more economical transit at cruise speeds. The propulsion system provides a maximum speed of 30kt.
The Gorshkov Class features an aft flight deck and hangar to carry advanced Ka-26/27 helicopters. The helicopters are fitted with radar systems which detect and track submarines.
Kamov Ka-27 Helix
Image arliners.net
Kamov Ka-27PL 'Helix-A'
Entered service
1982
Crew
3 men
Dimensions and weight
Length
11.27 m
Main rotor diameter
15.9 m
Height
5.45 m
Weight (empty)
6.1 t
Weight (maximum take off)
12.6 t
Engines and performance
Engines
2 x Klimov TV3-117V turboshaft engines
Engine power
2 x 2 190 hp
Maximum speed
250 km/h
Cruising speed
230 km/h
Service ceiling
5 km
Range
800 km
Payload
Maximum payload
5 t
Typical load
?
Armament
Torpedoes
4 x APR-2E homing torpedoes
Bombs
4 x groups of S3V guided anti-submarine bombs in place of torpedoes
Image @combataircraft.com
Kamov Ka-27 Data military-today.com
Main material source naval-technology.com
Country of origin
Russia
Entered service
expected in 2016
Crew
210 men
Sea endurance
15 days
Dimensions and displacement
Length
up to 135 m
Beam
15 m
Draught
4.5 m
Displacement, standard
?
Displacement, full load
4 500 t
Propulsion and speed
Speed
29.5 knots
Range
8 980 km at 14 knots
Propulsion
CODAG propulsion with 2 gas turbines (55 000 shp combined) and 2 diesel engines (10 400 shp combined), driving 2 shafts
Airwing
Helicopters
1 x Ka-27
Armament
Artillery
1 x 130-mm, 2 x 30-mm Palash CIWS.
Missiles
16-cell VLS for Kalibr-NK cruise missiles, P-800 Oniks anti-ship missiles and 91RTE2 anti-submarine missiles. 32 x 9M96E/9M96E2 surface-to-air missiles
Torpedoes
2 x quadrupple 330-mm torpedo launchers for Paket-NK torpedoes
Technical specification military-today.com
Revised on Mar 09, 2017